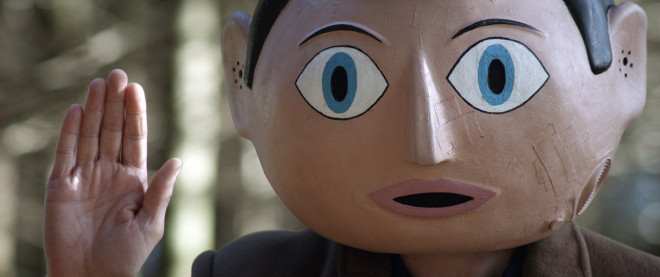 A British-Irish co-production, Frank is an offbeat comedy from director Lenny Abrahamson about an avant-garde band led by a singer who insists on wearing a giant Papier-mâché head at all times. Starring Domhnall Gleeson, Maggie Gyllenhaal and Michael Fassbender as Frank, this is a fresh and funny movie about celebrity, integrity and madness.
Jon (Gleeson) is a young twenty-something stuck in a dead end call-centre job but with dreams of one day making it big as a rock star. There's only one problem – he's completely devoid of talent. But lady luck shines on him, for when a touring band lose their keyboard player and need an immediate replacement, Jon finds himself sucked up into the crazy world of an experimental group Soronprfbs, a band who even its members have no idea how to pronounce.
Gleeson, who has just landed a major role in the new Star Wars film series, is great as Jon, an irritating yet lovable English loser in the mould of David Brent or Alan Partridge.
He's a complete fish out of water in Frank's band, as they hole themselves up in a remote shack in the middle of Ireland in order to work on their album. The other members treat him with disdain, except for Frank (Fassbender), who despite never revealing his face, starts to open up.
To call it a left-field role for Michael Fassbender is understatement. There's something wonderfully audacious about having a major Hollywood star in your movie, only to never show his face. But Fassbender lends a real aura to Frank, and with the extremely deep David Byrne-styled voice he puts on, provides the film with some its funniest exchanges.
Co-written by journalist Jon Ronson, the film is inspired by his time playing keyboards for Frank Sidebottom, aka Chris Sievey, a cult comedy and music performer from the north of England famous for wearing that giant fake head. Here Frank is a mentally ill American musician rather than a Mancunian comedian, but this spiritual biopic contains the same anarchic spirit of Sidebottom's performances.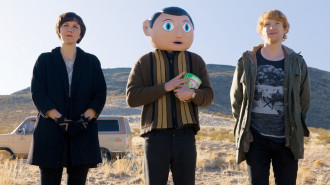 It's also full of many quirky comedy moments, such as when a family of holidaymakers arrives at a remote cottage to find Frank's band playing inside, or the multiple times Jon needs to utter the group's safety word 'chinchilla' to stop things getting out of control. Abrahmson also adds some neat innovations, such as having Jon's tweets appear on screen, and a hilarious use of singing voiceover.
Surprisingly few films are made about the creative process, but Frank succeeds in capturing the chaos and community that is formed from such people working together, as well as looking at the dichotomy of celebrity vs artistic integrity, and whether you need to be tortured in order to be a genius
All of this is explored to some beguilingly brilliant avant-garde rock from long-time Abrahamson regular Stephen Rennicks. Most of Frank is fun and forgettable, but there are some moments, especially the band's final performance, that will linger long after the credits roll.
Frank will be released in UK cinemas nationwide on 9 May.