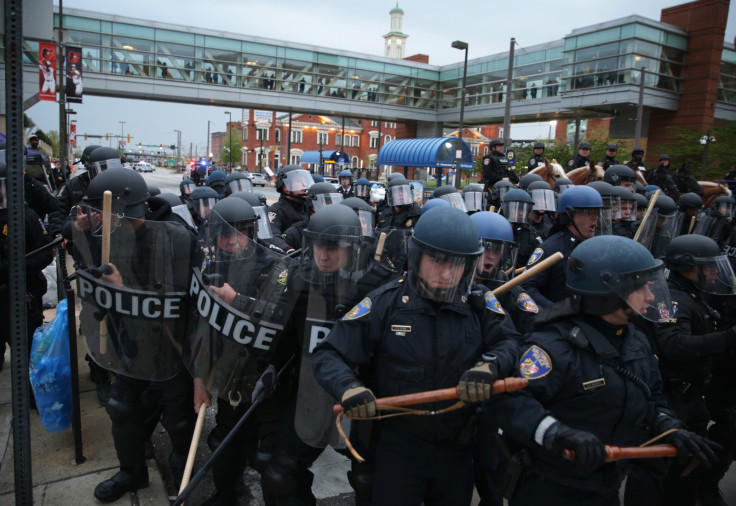 Thousands of protestors marched through Baltimore, smashing police windows and shopfronts, angry at the unexplained death of Freddie Gray while in police custody.
Freddie Gray's twin sister Fredricka Gray called for calm, asking for the violence to stop. "Freddie Gray would not want this."
Daily protests have been taking place in Baltimore and Saturday's was the biggest so far. By the evening, demonstrators had smashed shop windows and there were fights with baseball fans before the game between the Baltimore Orioles and the Boston Red Sox.
Local TV showed footage of a protester throwing a crowd-control barrier toward officers. Demonstrators also jumped on some police cars, breaking their windshields.
At least 2,000 people joined the largely peaceful protest rally at Baltimore city hall, demanding answers on how the 25-year-old African American died from spinal injuries a week after his arrest for carrying a knife.
Throughout the day, protesters shouted, "No justice, no peace" and "All night, all day; we're gonna fight for Freddie Gray."
One of Saturday's rallies, organised by the People's Power Assembly, made its way from the Sandtown neighbourhood where Gray was arrested to the Western District police station where an ambulance was called for Gray once he arrived in a police van.
Speakers at the rally called for President Barack Obama to launch a national inquiry into police misconduct, following a number of fatal confrontations between white police officers and black men and boys.
"It has to stop. It really has to stop because it could have been any one of us," a young male adult member of Gray's extended family told the crowd.
At least 12 arrests were made during the protest, police said.
The police are to report the findings of their investigation on 1 May. Protesters are calling for the six suspended police officers to be charged, and promised further protests if they are not.
An independent review by state prosecutors will follow.