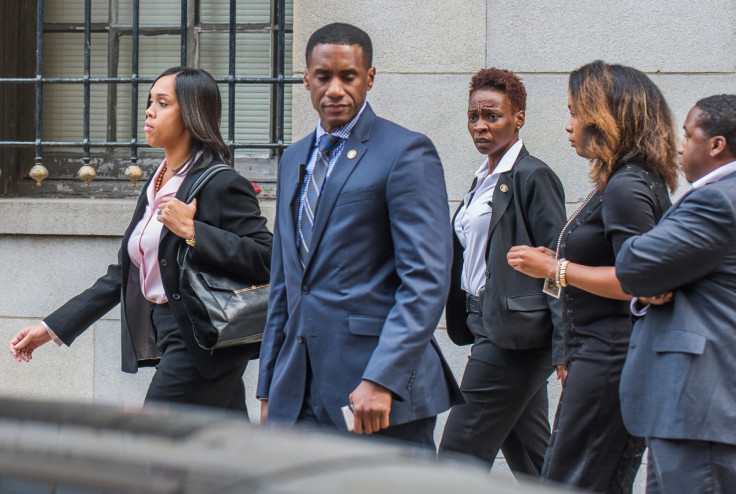 A judge ruled on 2 September that the six police officers charged in the death of Freddie Gray while in custody are to be tried separately. Judge Barry Williams concluded that trying the six officers together "is not in the interest of justice."
Williams also ruled that the various charges against the six officers would not be dismissed and that State's Attorney Marilyn Mosby would not be recused from the case, ABC News reported. The six officers, who are represented by lawyer Andrew Graham, were not present during the pre-trial hearing.
According to ABC News, Deputy State's Attorney Janice Bledsoe argued that three of the officers should be tried together because they exhibited "degrees of the same breach of care." However, Williams ruled that evidence in one trial would not necessarily be admissible in another.
Meanwhile, Graham argued that the charges against the officers be dismissed due to "prosecutorial misconduct" by Mosby. According to Graham, Mosby "violated public contact" and was "reckless" during a May 1 news conference about the arrests. He also claimed that Mosby's usage of the phrase "no justice, no peace" was "tantamount to saying no conviction, no peace."
Judge Williams also dismissed the defiance's motion to recuse Mosby from the case due to her marriage with Baltimore City Councilman Nick Mosby. According to USA Today, Williams said he was "troubled" by some of the comments made by Mosby during the May news conference, but that they did not compromise the defendant's right to a fair trial.
Officers Caesar Goodson Jr, William Porter, Edward Nero and Garrett Miller, Lieutenant Brian Rice and Sergeant Alicia White were charged with various offences in May. Rice, Porter and White face manslaughter charges, while Goodson faces a second-degree murder charge. All six have pleaded not guilty.
Twenty-five-year-old Gray sustained neck injuries during a 12 April foot-chase with police, NBC News reported. Gray, who was charged with possession of a switchblade, sustained the neck injuries while riding in the police van. His death a week later sparked protests in Baltimore and around the US.