A new video released on 20 May has shed light on into the arrest of Baltimore resident Freddie Gray, who suffered a fatal spinal injury while in police custody. The video was taken by a neighbour Gray's friend Michelle Gross, the Baltimore Sun reported.
Gross, who used to call Gray "son," allegedly saw as he was arrested by Baltimore Police and handed her neighbour her phone to call 911. However, the two then headed to the corner of Mount and Baker streets, where the police van had stopped.
The pair witnessed and videotaped as Gray lay halfway out of the police van with his stomach on the floor and his legs dangling in the back.
The video, which was obtained by the Baltimore Sun, shows Gray immobile as police shackle his legs and place him in flexi-cuffs. Police then put Gray back in the van, head first and on his stomach.
'I thought his leg was just broke and we'd hear from him later'
Gross told the Baltimore Sun she was surprised by the fatal turn of events following Gray's arrest. The 58-year-old said through tears: "I thought his leg was just broke and that he was just going to the police station and we would hear him that afternoon."
According to the Baltimore Sun, a majority of the video shot by the witness was taken at Mount and Presbury Streets. However, less is known about what happened when the police van stopped at Baker Street, where Gray was shackled.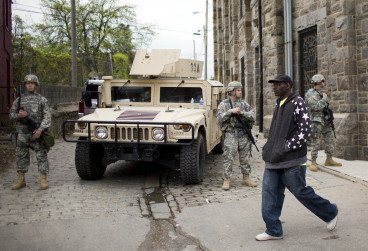 Baltimore's State's Attorney Marilyn Mosby said the moment of Gray being shackled was critical in the charges against the six officers involved. "Following transport from Baker Street, Mr Gray suffered a severe and critical neck injury as a result of being handcuffed, shackled by his feet and unrestrained inside of the [Baltimore Police Department] wagon," the charging documents state.
Surveillance video from around the arrest area had been released by the Baltimore Police Department on YouTube in April. However, the Baltimore Sun reported that one of the 16 surveillance videos relating to the arrest has since been removed.
Gross and the other witness told the Sun that officers blocked their view of Gray and later threatened to use a Taser on the neighbour if he did not leave. Surveillance video partially confirms that narrative.