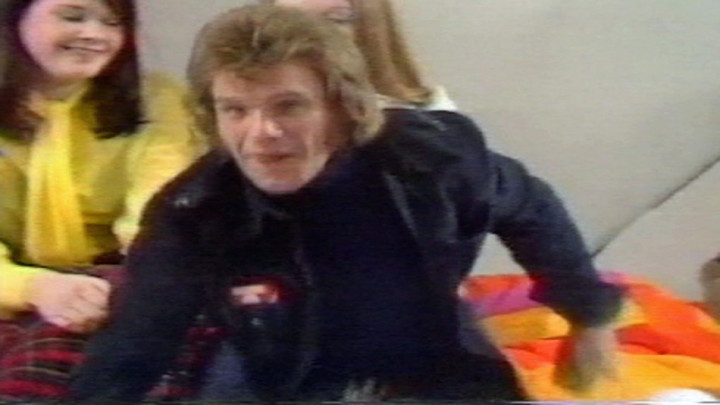 TV personality Freddie Starr has been forced to backtrack on his claims that he has never met a woman who claims he abused her after footage emerged of the pair of them appearing on the BBC show Clunk Clink.
Karin Ward waived her anonymity to go public with her claim that Starr had molested her when she was 14 in Sir Jimmy Savile's dressing room at the BBC studios in 1974.
The allegations were strenuously denied by Starr, who claimed he had never met Ward or been to the BBC and had only met Savile on two occasions.
But footage unearthed by Channel 4 News shows that Starr had appeared in a 1974 episode of Clunk Click - the same episode in which Ward claimed she was abused by Starr in Savile's dressing room.
Ward also claims to have seen convicted paedophile Gary Glitter raping an underage girl in Savile's dressing room,
The footage shows Ward in the background of the studio along with Starr. The image does not prove her claims but calls into question Starr's memory of that time.
Following the allegations, Starr told reporters outside his home: "I have never been in any situation with Jimmy Savile and Gary Glitter, and I have certainly never been with this woman."
Starr added: "My brief is going to tear her to pieces. I've never been to the BBC."
Since the emergence of the Clunk Clink footage, Starr's lawyers released a statement on his behalf saying that his original denial was down to him not being able to remember every TV programme he has appeared on.
"Freddie Starr has been in the entertainment business for over 50 years. During this time he has appeared on countless television shows each year as well as performing in literally thousands of live shows," said his lawyers.
"Freddie is now 69 and cannot be expected to recollect every show that he has appeared on and to remember every person that he has met.
"When the allegation made by Karin Ward was put to him Freddie's first reaction was that he would never grope a women and never has.
"He then considered whether he had even been on a Jimmy Savile show or if he had met a women called Karin Ward. His recollection was that he had not been on a Jimmy Savile show and when he contacted the person who was his manager in the 70s he also could not remember Freddie appearing on any of his shows.
"In respect of Karin Ward this was not a name that Freddie could remember and [he] therefore had no recollection of meeting her. It would now appear from seeing footage of a Clunk Click show aired in 1974 that in fact Freddie was mistaken and therefore he had in fact been on a Jimmy Savile show.
"However, this does not detract from the fact that Freddie vigorously denies the awful allegation that has been made by Karin Ward, which despite this footage is still totally unsupported and uncorroborated by any other evidence."