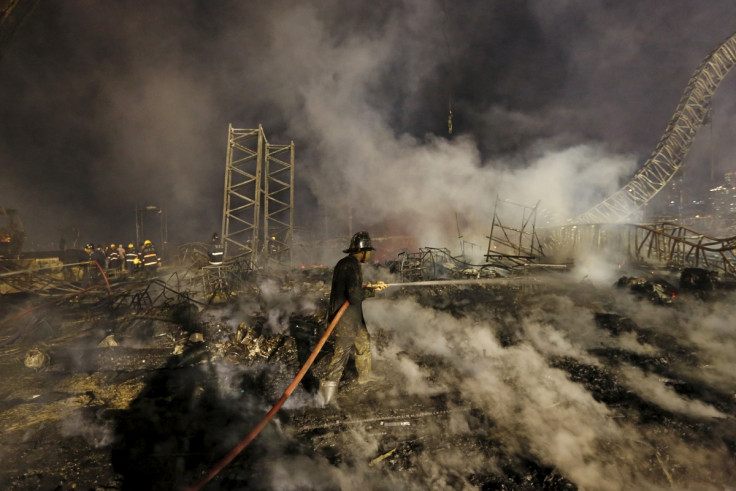 A major fire broke out during a Make in India event in the country's financial capital of Mumbai embarrassing the Maharashtra state government, even as authorities were investigating any foul play in the incident. India's top politicians, actors, and businessmen were among the 8,000-strong participants at the event held on 14 February.
No casualties were reported at the venue at Girgaum Chowpatty beach. A probed was also underway to find out whether all the safety procedures were followed by the government as authorities had to take permission from the Supreme Court to conduct the event at the popular destination.
"A cultural programme was organised. We suddenly saw fire in the lower portion of the stage. We evacuated all the people. We had created a disaster management programme and everything was done according to it. All the SOPs [standard operating procedures] were followed. There is no injury. Now we will conduct an inquiry to know the cause of the fire," Maharashtra Chief Minister Devendra Fadnavis, who was also present at the venue during the blaze, told reporters after the inferno was put out.
Although Fadnavis was initially taken to a safe place when the fire broke out, he later personally oversaw emergency operations. The reason behind the fire was being speculated to be sabotage, a short-circuit in the power supply or a gas leak. "We will probe all aspects, including finding out if there was a sabotage angle involved," an official said.
The cultural event – known as Maharashtra Night – was a flagship programme of the state government, governed by the Bharatiya Janata Party (BJP), and aimed at showcasing Mumbai's cultural dimension.
"The incident will not impact the Make in India programme, which will take place as planned. All the programmes will be held as per schedule. If required, we will take more precautionary measures against fire incidents," added Fadnavis. Prime Minister Narendra Modi also spoke to the chief minister following the incident. Bollywood actors including Amitabh Bachchan and Aamir Khan took part in the event.
"The police and fire department did a wonderful job. Also, I have to congratulate the Chief Minister for leading from the front," Khan said later.