A social media campaign in support of prominent Azerbaijani journalist Khadija Ismayilova, who has been detained on charges of inciting a person to attempt suicide, is gaining international traction after a Baku court ordered her to spend two months in pretrial detention.
A journalist with the US government-funded Radio Free Europe/Radio Liberty, Ismayilova is an outspoken critic of the authoritative president Ilham Aliyev and has exposed the ruling family business with corruption investigations.
The 38-year-old journalist stands accused of driving a former colleague at the radio station to a suicide attempt and she could face up to seven years in prison. But her supporters allege that the charges are fabricated by the government for her outstanding investigative work, in particular her series of articles uncovering how Aliyev's daughters got rich thanks to their government ties. Some of her colleagues and friends have set up Facebook pages, organised protests around the world and set up a website highlighting human rights abuses in Azerbaijan. They also kicked off the hashtag #FreeKhadija to call for her release.
Ismayilova said on Tuesday (9 December) that the charges were part of the government-led crackdown on dissent. "I was expecting that the government's nerves would fail them at some point," Ismayilova said by phone.
Following her investigative stories, secret cameras were installed at Ismayilova's apartment. The journalist received a letter with stills from a video of her having sex with her boyfriend and her apartment. She was threatened to be quiet or be "shamed".
But Ismayilova had the courage to go public and refused to back down. In retaliation, the sex tape was released online. The journalist kept working on the murky businesses of Azerbaijani president's family with more investigative work. That must have caused fury in Azerbaijani elite, which spends petrodollars on a Western lobbying campaign to portray it as a shiny developing democracy.
In 2012, the parliament adopted amendments to its legislation making information of company founders a state secret. Many saw the move as a direct response to Ismayilova's work.
After the publication of more investigative stories, Ismayilova was arrested on charges of incitement to suicide. Earlier, prosecutors brought a defamation case on charges of "disseminating state secrets" accusing her of passing on state secrets to congressional staffers. She was also banned from leaving the country.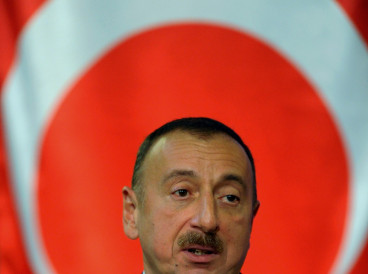 Her main investigative stories include the ruling family's real estate holdings in the Czech Republic, the president's daughters' hidden ownership of shares in the Azerbaijani's telecom industry and graft in construction and mining industries.
"The Azerbaijani government has decided it has to kill every critical voice, silence every critical voice in Azerbaijan," she told the Helsinki Foundation for Human Rights in Poland last autumn. "Those the government was not able to buy out, they tried to jail or harass in order to silence."
Azerbaijani's president's press secretary Azer Gasimov rebutted remarks criticising Ismayilova's arrest from the US state department, Human Rights Watch and Amnesty International claiming that they were "jealous of our country".
He blasted the US state department, saying it should focus on police violence within the country instead of making "baseless and biased statements about Azerbaijan."
He said Azerbaijan "has never prosecuted any of its citizens as well as any mass media representative over freedom of speech, and they have never suffered from pressure by any official authority."
Azerbaijan is at odds with Armenia over the disputed enclave of Nagorno-Karabakh. In the latest flare-up, Baku downed an Armenian military helicopter. Armenia described the incident as an "unprecedented provocation".
Aliyev's critics claim he is using high diplomatic tensions with Armenia, which he called a "state of war" on Twitter, as a cover to target and lock up political activists.
Amnesty says there are 21 prisoners of conscience in Azerbaijan. One of the most recent detainees is Leyla Yunus, Azerbaijan's best-known human rights advocate. She was detained along with her husband on several charges, but primarily "treason in favour of Armenia".