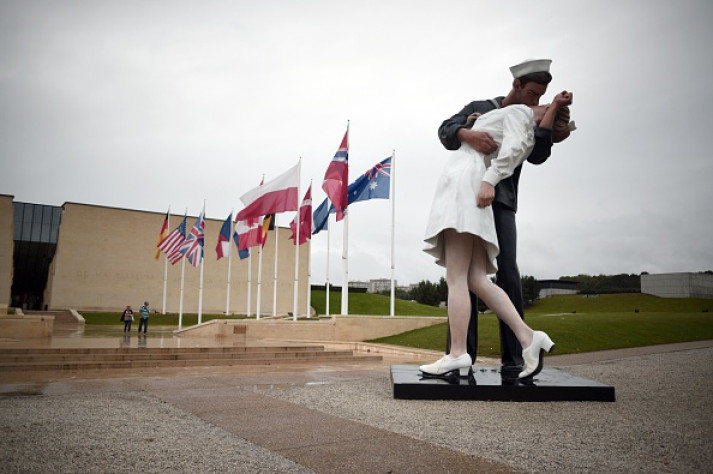 A French feminist group have petitioned for the removal of giant statue from a war memorial in Normandy, because they claim it depicts a sexual assault.
The statue replicates the iconic photo of a sailor kissing a nurse in Times Square at the end of World War II, taken by Alfred Eisenstaedt.
The 25 foot, 13 tonne sculpture, titled 'Unconditional Surrender', shows the sailor kissing a woman with one arm around her waist and another behind her neck.
The work by American artist Seward Johnson was erected in late September in front of the Caen Memorial Museum, near Pegasus Bridge, in preparation for events marking the 70th anniversary next year of the end of World War II.
The French feminist group Osez Le Feminisme (Dare to be Feminist) have now called for the statue to be removed and sent back to the United States, claiming theat while it is "supposed to express the euphoria of the end of World War II, (but) it immortalises a sexual assault".
"The sailor could have laughed with these women, embraced them, asked if he could kiss them with joy," said Osez Le Feminisme. "No, he chose to grab them, with clenched fists, to kiss them. It was an assault."
After meeting with representatives of Osez Le Feminisme to hear their concerns, the director of the Caen Memorial Museum, Stephane Grimaldi, refuted their suggestions that the statue is a symbol of sexual aggression.
He described it as an expression of joy, adding that the statue will stay in place .
"The association the group makes in its petition between this sculpture and the rape by US soldiers of women during the war is scandalous," he said.
He added that Edith Shain, the woman who has claimed to be the nurse in the photo, never expressed any concerns or suggestion of a sexual assault and said she happily let the sailor kiss her "because he had fought for his country".
Mr Grimaldi conceded that as a concession a text accompanying the sculpture would note that there was some doubt over the identity of the nurse.