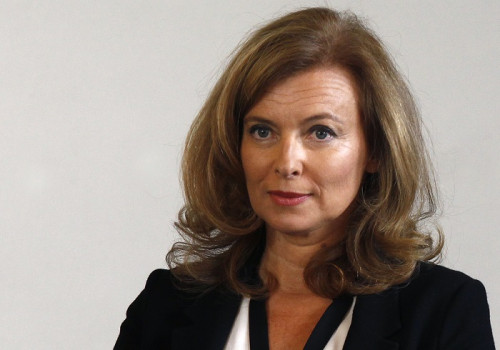 French President Francois Hollande's partner Valerie Trierweiler has told friends that she fears being left homeless if she separates from the premier.
Trierweiler, 48, is currently recuperating at the Pavillon de la Lanterne presidential retreat in Versailles after leaving hospital on Saturday, while she and Hollande decide whether to continue their relationship.
The central Paris apartment which the couple shared before Hollande's election in 2012 is reportedly in the French president's name.
"Would it still be her home?" commented Catherine Schwaab, deputy editor of Paris Match, the magazine for which Trierweiler works.
"He apparently said to her that he needed 'more time'," Schwaab wrote in the magazine. "They agreed that she could 'wait' in La Lanterne. But wait for what? Therein lies the problem."
Trierweiler was taken to hospital last Friday suffering from "a severe case of the blues" following allegations of Hollande's affair with actress Julie Gayet, which were revealed in the pages of French Closer magazine.
Paris Match said Trierweiler watched a press conference delivered by Hollande on Tuesday on her iPhone because she did not have a television. The de facto French First Lady is also believed to be "disappointed" that Hollande has failed to back her publicly.
In her first public comment since news of the affair broke, Trierweiler on Saturday thanked well-wishers for their support.
"Thanks from the bottom of my heart to all those who sent supportive or get well messages via Twitter, SMS or email," she said. "Very touched."
Hollande is due to visit the Netherlands on Monday and Trierweiler would ordinarily have accompanied him, but will not be taking part.
French presidential sources told Journal du Dimanche that the couple were preparing for an "inevitable separation".
Hollande has come under intense pressure to clear up the intimate details of his private life, which are being played out in French and international media.
The president said on Tuesday that he would clarify the situation ahead of a scheduled official trip to the United States next month, but declined to take questions on his private life when he gave a speech on Saturday in Correze, central France.
Hollande's approval rating remains at 22%, a record low.