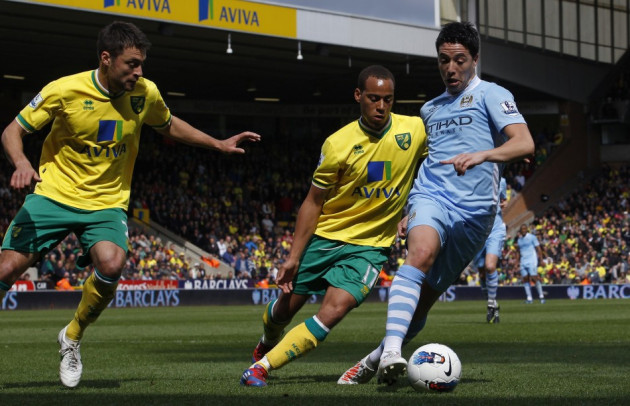 Samir Nasri has admitted he faced a tough choice over whether to join Manchester United or Manchester City last summer.
Nasri's prolonged transfer from Arsenal dominated the headlines in July and August after the French international revealed his desire to leave north London.
Manchester United were heavily linked with a move for the 24-year-old before he eventually signed for rivals Manchester City in a £24m deal.
And after City lifted the Premier League trophy on the final day of the season, Nasri sought to rub further salt into Manchester United wounds by claiming City's victory vindicated his decision.
"I thought for a few months before making my decision, with my parents and my advisors," Nasri is quoted as saying in the Daily Mirror. "Patrick's [Vieira - City's football development executive] argument was that [Manchester] United are used to winning everything.
"Last season they [Manchester United] won the league title and got to the Champions League final and if you sign this season and you play less well, it won't have been a success for you. Whereas City is a club that's building, which has recruited smartly with the likes of Sergio Aguero, and if you win the title you'll be part of history.
"I weighed up the pros and cons, Roberto Mancini was calling me every day and I decided to go there."
Nasri enjoyed a successful start to his career at the Etihad but struggled to hold down a place in the first XI throughout the autumn. His form picked up as the season progressed and he eventually contributed five goals and nine assists in 31 Premier League appearances.
But the City midfielder has attracted criticism from former Arsenal team-mate Jack Wilshere for a recent interview he gave in which he defended his decision to leave the Emirates.
Nasri said a number of Arsenal players were happy to forgo playing in a title-winning side for an easy life at the Emirates, and claimed he had now moved to a club that would "never settle for second best".
He added: "I hope they are watching me now collecting my Premier League winner's medal. I believe they have not won a trophy for many years now.
"I now hope the Arsenal fans can get on with their lives and forget me, they should celebrate their third-place achievement and I will focus on winning titles."
But Nasri's comments provoked a furious response from Arsenal midfielder Jack Wilshere, who said: "I don't know what goes on in his head. Fair play, he has won a trophy, but over the next couple of years our goal is to win a trophy and I can see us winning a trophy.
"Maybe he spoke too soon and hopefully we can rub his face in it next year."