Air strikes by French Rafale fighter bombers have destroyed a logistics depot run by Isis terrorists in Iraq on Friday.
"This morning at 9.40am (7.40am GMT) our Rafale jets launched a first strike against a logistics depot of the terrorists," said a statement from President Francois Hollande's office just after the raids.
His office said the target was in northeastern Iraq, without specifying exactly where, only adding: "The objective was hit and completely destroyed."
Kurdish military spokesman Halgord Hekmat later identified the location as Tal Mus, between the city of Mosul and Zumar.
French defence ministry sources said two Rafale jets dropped laser-guided GBU-12 Paveway II bombs in the Mosul area.
It is understood that dozens of fighters were killed, as well as an arms dump and fuel depot blown up.
France is now the first western ally to join the American-led air offensive against the Islamic State, according to a Times report.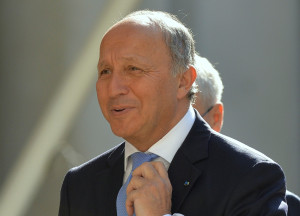 "Other operations will follow in the coming days with the same goal to weaken this terrorist organisation and come to the aid of the Iraqi authorities," President Hollande said.
President Obama praised France for committing to join US forces in air strikes against Isis (now known as the Islamic State). However, last week the American president had spoken out about France agreeing to pay ransoms to release its hostages captured by Islamic State – although this was publicly denied by French foreign minister Laurent Fabius.
The New York Times said that during a private briefing to journalists Obama mentioned that "the United States does not pay ransom to terrorists, but remarked that President François Hollande of France says his country does not, when in fact it does".
A New York Times investigation this summer claimed that France has paid out $58m (£35.6m, €45.2m) to free hostages since 2008.
Australia has deployed fighter jets and 200 special forces in to the Iraqi region, and is expected to actively engage in the fight soon.
Meanwhile in the UK, Downing Street said it was "not yet at the stage" of taking a decision about British air strikes. However, a parliamentary debate on air strikes against the Islamic State could take place next week.
The bombing campaign was launched to protect Iraqi Kurdistan from advancing militants and attempt to help the autonomous region's troops retake the ground they have lost.