French Jews have formed their own militias to defend synagogues and communities from attack, after a Facebook page was set up featuring photographs of Jews to be targetted for violence.
Zionist youth group Betar, which is almost 90 years old, aims to promote leadership in Jewish communities. But with a 40% surge in antisemitic violence recorded by French police in the first three months of 2014, Betar has pledged to fight back.
"Our goal is to stop this image of the puny Jew who lowers his head. It is all over. Today we raise our heads, we are defiant, we fight, we break, it is over, we are done," Yair, a Betar group leader, told news website Vocativ.
Betar has been joined by groups including the Jewish Defence League (Ligue de Défense Juive, or 'LDJ') in taking the battle to the streets, fighting with pro-Palestinian protesters to defend synagogues from attack.
On Thursday, a mob of more than a dozen men armed with iron bars assaulted a Jewish man in his home in a Paris suburb. The victim's photograph and address had been published on an anti-Semitic Facebook page, along with dozens of other men's.
Jeunes Révolutionnaires Français (JRF) ‒ or 'Young French Revolutionaries' ‒ posted the names and photographs of 32 Jews with the caption, "Smile, you're caught! JRF watches! #AntiLDJ".
The Union of Jewish Students of France said: "For several days, many Facebook pages have been created to encourage physical violence against young Jews.
"Photos were published, with the identities, phone numbers, and contact information. This young man was directly affected by such a Facebook page. It is unacceptable that the Jews are the target of Facebook calls to murder."
On Sunday, protesters against Israel's actions in Gaza targetted Jewish businesses and a synagogue in the Parisian suburb of Sarcelles.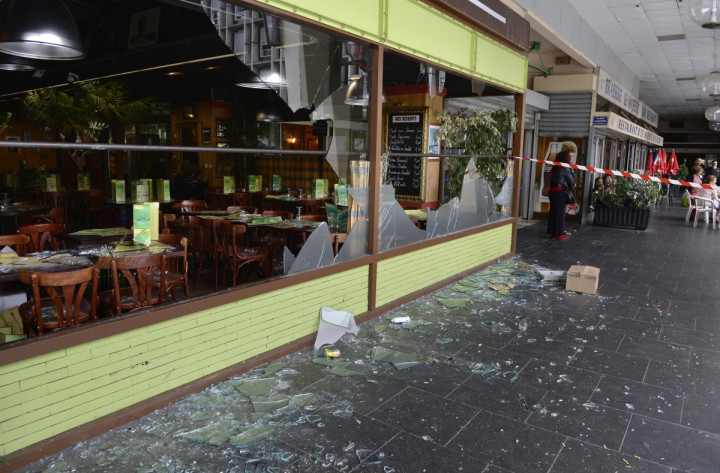 The protest was held in defiance of a government ban on demonstrations in the capital linked to the conflict in Gaza, as a series of protests have led to vandalism and antisemitic violence.
On 13 July, protesters against Israel's recent military action in Gaza trapped 200 worshippers inside the Synagogue de la Roquette in central Paris and attacked Jewish businesses and shops.
Fighting broke out on the streets outside the synagogue, as Betar and LDJ members clashed with the rioters.
"Thank God they were there," French Jewish journalist Alain Azira told news agency JTA, "The anti-Israel protesters had murder on their mind."
The previous Friday, a firebomb was hurled at a synagogue in the southern Paris suburb of Aulnay-sous-Bois.
The next day, a pro-Palestinian protesters gathered outside a synagogue in the Belleville neighbourhood in Paris and chanted "Death to Jews."
On the same day that the Roquette synagogue was attacked, the Synagogue de la rue des Tournelles was also targeted by rioters.
Christine Tasin, a right-wing columnist and former politician, wrote on the news site Riposte Laique, "The real scandal is not that LDJ exists, but that it needs to exist."