French Presidential Election: The national polls
What can the data tell us about the upcoming French election?
The French elections 2017 will not only be one of the most significant polls in the country's modern history but also one of the closest, as five candidates all vying for the popular vote. After the twin shocks of Brexit and Donald Trump in 2016, the vote for the next French president is crucial not only for the country's future, but for the future of the EU as well.
With just days to go before the first round of the election on Sunday 23 April, the outcome is still unclear.
International Business Times UK has looked at voter intention results from February until now with the main French pollsters. We have calculated an average for the main five leading candidates. The polls will be updated when new figures become available. All figures come within a 5% margin of error.
Who is leading the race to become the new French President?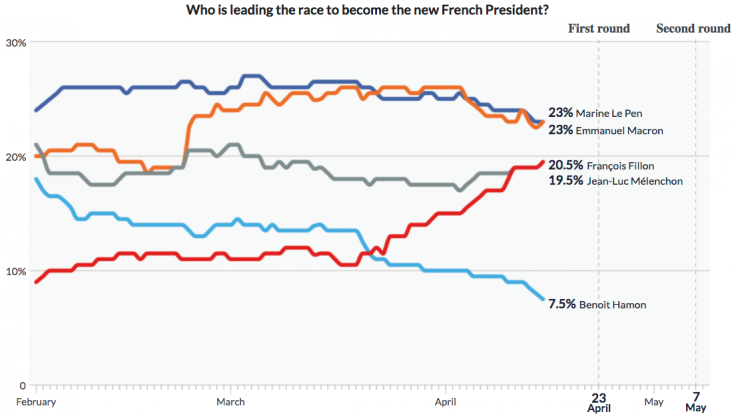 Second round: the last step
The French electoral system dictates that unless one of the candidates receives 50% of the votes in the first poll - which is usually an impossibility given the large number of candidates - the two candidates with the most votes will face each other in a second, decisive round on 7 May.
French pollsters are focusing on two possible scenarios: Marine Le Pen facing off against Emmanuel Macron or François Fillon. Even though Fillon's chances of getting through to the second round appears to be less likely, Le Pen for now is on course to be defeated by either Macron or Fillon in the decisive vote.

A swing to the left, but what's next for the French right?
Since 2002, the French right- and centre-right parties have seen a gradual decline in their share of the vote. Following two successful campaigns from Jaques Chirac, who won in 1995 against Lionel Jospin and then defeated Jean-Marie Le Pen in 2002, Nicolas Sarkozy failed to garner the same strong support of his predecessor. Sarkozy won with a small margin in 2007 against Ségolène Royal but lost most of the traditional right-wing regions in 2012, when François Hollande emerged victorious.
Hollande's approval ratings have always been volatile. Having been elected as one of the most popular European heads of state, a sluggish economy combined with domestic problems over terrorism saw his approval ratings tank.
With voters disillusioned by parties on both the left and the right, the race for the next president is wide open.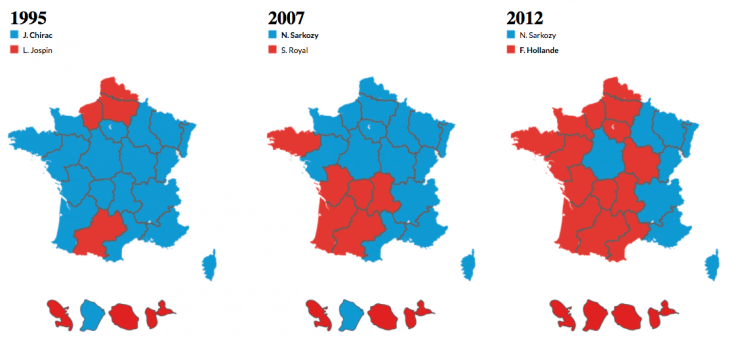 © Copyright IBTimes 2023. All rights reserved.