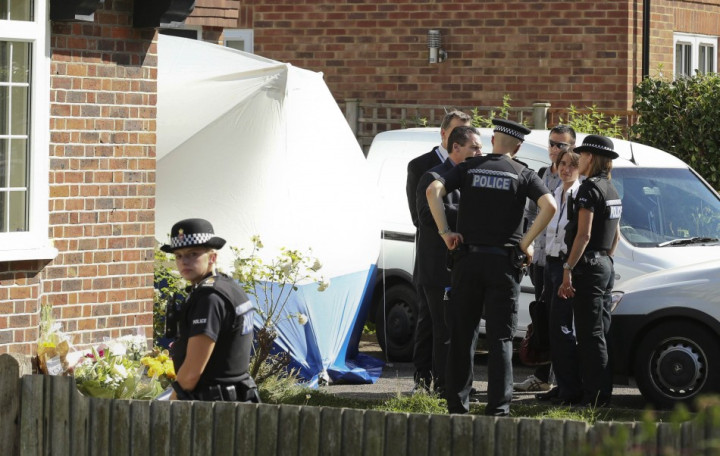 French and British police are working together to investigate the deaths of the four people who were murdered near the popular tourist destination of Lake Annecy in France.
A British forensic team and French officers spent nearly an hour searching for clues inside the al-Hilli family home. The investigators expect the case to be "long and complex".
Senior French police officer Colonel Marc de Tarle told reporters: "We are here within the framework of a request for international mutual help launched by the French judicial authorities towards the British authorities.
"I want to place the emphasis on the victims of this tragic incident and Surrey police, again with our French colleagues, are ensuring that all those who need support will get the support."
At least 40 French investigators are working with British officers, including Surrey police and forensic officials.
The investigators are considering several possible motives for the killings, including a family feud over financial matters, armed robbery, a professional contract killing and even political assassination, as al-Hilli came to Britain during the time of former Iraqi dictator Saddam Hussein's Baath party rule. In addition, police are not ruling out a case of mistaken identity.
According to the investigators, the nature of the crime suggests that the killers wanted to finish the entire al-Hilli family. Each victim was shot twice in the head, according to post-mortem tests.
Meanwhile, Zaid al-Hilli, the brother of Saad al-Hilli, has denied that there was any family dispute over "financial matters".
"The brother spontaneously went to see the police in Britain first to find out how his brother was because through the British media he had heard about the death of his brother," said French prosecutor Eric Maillaud.
"He turned up again because he heard about the conflict, the dispute between himself and his brother and he said, 'No, I don't have a conflict with my brother'.
"Everyone talks about a dispute between the brothers as if it was an established fact. The brother says there was no dispute so let us remain cautious about that."
However, Maillaud said all immediate family members would be questioned as the hunt for leads continues.
Two relatives of al-Hilli, a man and a woman, have travelled to France with British social workers to comfort the family's two little girls, who survived. They remain in hospital under police protection.
Iraqi-born al-Hilli and his wife Iqbal, an elderly woman and a local cyclist were shot dead on 5 September.