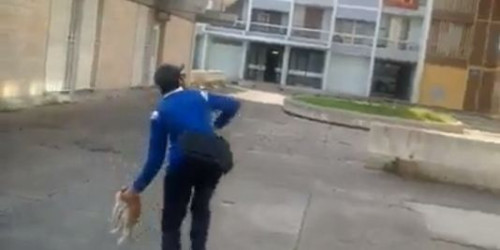 A Frenchman has been sentenced to one year in jail after a video showing him abusing a kitten went viral online.
A court in Marseille, southern France, found Farid Ghilas, 24, guilty of animal cruelty for torturing a five-month-old kitten named Oscar.
"I don't know what came over me. I was an idiot and I regret it," Ghilas told the court, while some 200 animal rights activists demonstrated outside calling for a stiff sentence against him.
Ghilas was arrested last week after he posted a video of himself torturing the cat on his Facebook page.
The Marseille man was seen hurling Oscar into some bushes and then as high as he could against an apartment block wall. The kitten plunged hard onto a concrete sidewalk and suffered from a broken leg.
Prosecuting Emmanuel Merlin said Ghilas showed the "absence of any moral barrier and cold sadism."
The cat was later retrieved by his owner and was receiving treatment at the Marseille office of France's national animal welfare association SPA.
Numerous Facebook groups against Ghilas were set up shortly after the video was posted and an online petition urging authorities to take action was signed by almost 260,000 people.
France's National Gendarmerie tweeted to thank netizens for highlighting the crime and helping identifying the offender.
"More and more people are filming themselves doing this and putting it online. In this case, the fact he put it on his Facebook profile with his personal details made it very easy for the police to find him," said a spokesperson for The Brigitte Bardot Foundation, an animal welfare group founded and named after the famous actress and animal lover.
Ghilas faced up to two years in prison and a €30,000 ($40,500) fine. The "exemplary punishment" was praised by animal rights activists.
"This is an act of intolerable cruelty," the Brigitte Bardot Foundation spokesperson said. "He is a torturer and a coward."
French Lawyer and blogger Maître Eolas said the sentence was stiff.
"Some people who beat up their wives are handed lighter sentences than that," Eolas told Le Nouvel Observateur newspaper.