The number of French expats in the UK registered to vote reportedly increased by 10% in the wake of the Brexit vote.
France goes to the polls today to choose who will become the country's next president. The odds currently favour independent candidate Emmanuel Macron and right-winger Marine Le Pen, from the Front National party.
The election is seen as one which could dramatically shift the political landscape in France and even the future of Europe.
Britain's momentous decision to leave the EU last year apparently prompted more French citizens than usual to come out on election day.
"The number of French people who registered to vote here and registered their details at the French consulate increased by about 10% in the last year, post the Brexit vote," said Eduardo De Guitaut, head of polling at Lycee Francais Charles de Gaulle in Kensington, to Sky News.
Twenty-five polling stations were set up in the Lycee, to receive an expected 50,00 voters. Mr De Guitaut said voters many were worried by the fallout from Brexit and wanted "administrative contacts" be used if necessary.
He added: "We have a bigger pool of voters and we expect 50,000 French citizens to vote here.
"In my polling station, I expect about 1,200 voters compared with about 800 five years ago."
There are around 100,000 French people living in the UK, the vast majority of them in the London area. Seventy polling stations have been set up across the UK.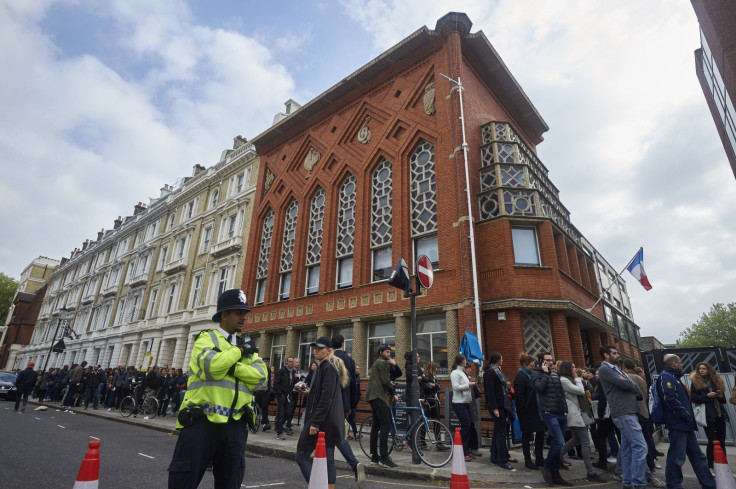 Huge numbers of voters turned out in cities across Britain, with queues of French expats winding across neighbourhoods.
The election has been billed as one of the most unpredictable of recent times. If no candidate receives more than 50% of the vote – as is expected – a run off of the two most successful candidates will take place in two weeks.
While Le Pen and Macron are favourites for the run-off, the results of the first round are regarded as too close to call.