French voters have gone to the polls to chose their country's next president, amid tight security and fears of rioting. The contest has been one of the most divisive in living memory and could have far reaching implications for European politics.
The election is seen as a litmus test for the momentum of populism in the West and comes just days after a policeman was shot dead on Paris's Champs Elysees by an Islamist extremist.
Tens of thousands of police and soldiers have been drafted in to provide security at the polling stations because of concerns the election could be targetted by terrorists.
Forty-seven million people are entitled to vote in the election, though around a quarter do not yet know who they will cast their vote for.
Turnout was higher than expected by mid-afternoon, with 69.4% of voters coming out, though shy of the 70.5% who came out in 2012. Early estimates placed the abstention rate at 20%.
There are 11 candidates on the ballot paper but only four are seen as realistic contenders. Emmanuel Macron, an independent, and Marine Le Pen, a far-right candidate from the Front National party, have been neck-and-neck in polls. The latest figures showed around 23% approval for both Macron and Le Pen.
Firebrand socialist candidate Jean-Luc Mélenchon and conservative François Fillon have trailed slightly at just under 20%.
But some observers – including Donald Trump – believe that Friday's attack could improve Le Pen's fortunes, who has promised a security crackdown and a "France First" policy. She is also strongly eurosceptic, and her victory would be a major concern to the EU, which is still dealing with the ramifications of losing the UK.
In contrast, Macron, who is standing on a reformist platform, is strongly in favour of the EU. The former investment banker has promised to improve social mobility and increase public investments.
If no candidate receives more than 50% of the vote on Sunday, the contest will move to a run-off in May between the two with the most votes.
In this likely scenario, Macron is viewed as the likely winner as analysts believe supporters of the other parties will vote for him to prevent Le Pen winning.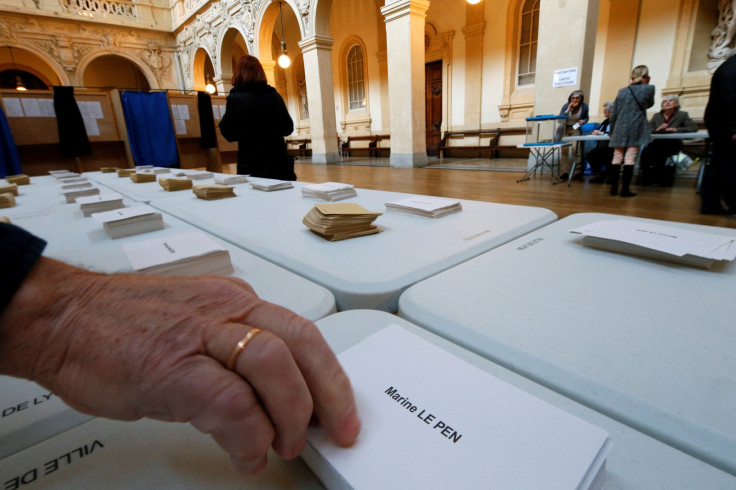 A win for either Le Pen or Macron would be a major shift from the political status quo, as neither are from the mainstream parties which have dominated French politics for decades. But the vote comes at a particularly tense time for France and resentment at the political establishment has been growing for years. With the polls so split over vastly different candidates, a large proportion of the population is likely to feel unhappy whatever the result.
Documents leaked to the La Parisien newspaper show the French intelligence services warned rioting could be expected if either Le Pen or Mélenchon make it through to the next round of voting.
The report warned of "public disturbances in the case of the presence of parties which are said to be extremist" in the May vote. If this happens, "protests are almost certainly to be expected", it added.
Students, farmers and hospital staff may be among those demonstrating against results, the report warned.