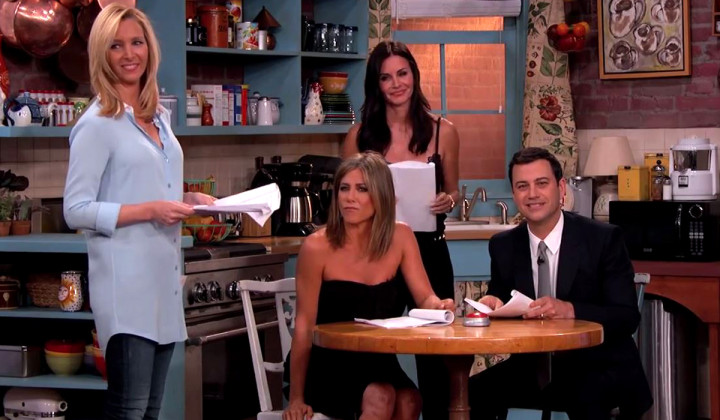 A Friends reunion has at long last finally happened.... well, sorta.
In a segment filmed for US talk show Jimmy Kimmel Live, actress Jennifer Aniston decided to play along with her host's request to play out some Friends fan-fiction he wrote, with Kimmel playing the part of Ross opposite her Rachel.
Luckily enough Courtney Cox (Monica) and Lisa Kudrow (Phoebe) were on hand to help act out the scene as well. Their entrances were met with huge applause as the skit unfolded in a replica of the Monica's famous New York apartment.
You can watch the whole segment below...
Friends ended 10 years ago (and started 20 years ago next month) and is fondly remembered as one of the best and most successful sitcoms in television history. Talk of a film or reunion of some kind has persisted ever sine with questions often directed at the six stars.
Kimmel's skit is as close as fans of the series have got to reunion so far, but sadly it's probably also as close as they'll get. Without the inclusion of Matthew Perry (Chandler), Matt LeBlanc (Joey) and David Schwimmer (Ross) though it'll never truly be a Friends reunion.
Also James Michael Tyler as Gunther, never forget Gunther.