French Front National (FN) founder Jean-Marie Le Pen has been banned from a new Eurosceptic party launched by his daughter Marine on Tuesday 16 June.
Marine Le Pen, FN's current leader, recruited Polish and British MEPs to launch a new party dedicated to challenging the EU.
The Movement for a Europe of Nations and Freedom (Mouvement pour l'Europe des nations et des libertés, MENF) was founded in May 2014, following the European Parliament election, but officially launched on Tuesday after it originally failed to attract the minimum number of MEPs.
It now encompasses parties formerly linked with the European Alliance for Freedom, which failed to form a political group in the European Parliament during the aftermath of the elections.
The party was granted €1.17m (£840,000, $1.13m) plus just over €621,000 for its affiliated political foundation, the Fondation pour une Europe des Nations et des Libertés.
JM Le Pen banned
Locked in a bitter feud with her father, Marine said that she had no wish for him to be part of the new party in Parliament which has the FN's 21 MEPs at its core.
Her father's absence was confirmed to Le Monde on Tuesday by Florian Philippot, the number two at the FN.
Jean-Marie, meanwhile, said on 12 May he was planning to set up his own political 'grouping' after being suspended from the FN party he founded in 1972.
His FN party membership was suspended by the party committee held on 4 May over a series of inflammatory remarks that the Nazi gas chambers were a mere "detail" of World War Two – comments not tolerated by his daughter.
"I will not create another party. I will create a formation that will not compete with the FN," Jean-Marie told Radio Courtoisie at the time.
Provocatively, he added the group would be "a parachute in case of disaster; a way of putting pressure to return to the political line that has been followed for decades".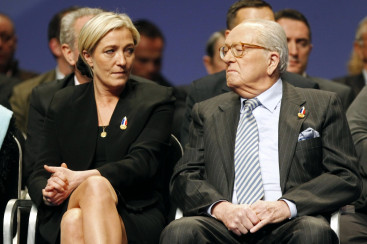 Jean-Marie launched a scathing attack on his youngest daughter Marine last week in which he furiously disowned her, saying she behaved in a scandalous manner.
He went as far as refusing to back in her 2017 presidential bid.
Jean-Marie can rely on the backing of his fervent supporters, who had taken to Twitter to show their support for his comments after Marine announced he would face an ousting.
Ex-Ukip Janice Atkinson joins Le Pen
In a statement, Marine said on Tuesday she had the support of 37 like-minded MEPs elected to the European Parliament in 2014 – well above the 25 minimum.
It has taken over a year for the party to attract the extra MEPs, after Marine refused to be linked to Hungary's radical nationialist Jobbik party or Greece's far-right Golden Dawn.
"We did not want to form a technical but political group. We do not want to do it at any price, " Edouard Ferrand, FN MEP recently told Le Monde.
The new party includes MEPs from the Dutch Freedom Party (PVV), the Freedom Party of Austria (FPO), Italy's Northern League and Flemish nationalist group Vlaams Belang.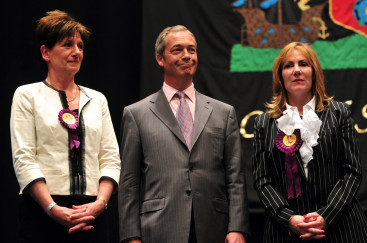 MEP Janice Atkinson, who was expelled this year by the Eurosceptic, anti-immigration UK Independence Party (Ukip), and Michal Marusik and Stanislaw Zoltek, who are affiliated to extreme-right Polish KNP led by Janusz Korwin-Mikke, also joined the party.
Meanwhile, in October last year, Aymeric Chauprade, an MEP in Brussels and international affairs advisor in the FN party, "denied categorically false claims circulating" in the Austrian and Polish media that Mikke's KNP was linked to the MENF.
"No doubt disappointed by our refusal to accept it, Mr Korwin-Mikke is clearly disseminating false information to journalists, careless about verifying the accuracy of information they receive," Chauprade said at the time.
"Let me be clear, for MENF and for the future political group that it will form, the Front National will not partner with parties or personalities whose values ​​are foreign to its own."
Formal launch
"It is the culmination of a year's work," Marine said at the formal launch of the new group in Brussels, where she welcomed the three new members that give her the seven-country representation required to win recognition and EU financing.
"We are going to fight the European Commission and its turpitudes," she said, also attacking European Parliament President Martin Schulz for belittling her MEPs over the past year.
She said Schulz's attitude had emboldened her to form the new group, which was set "to fight with all our force for the defence of our peoples".
The FN topped the vote in France in the May 2014 European Parliament elections and has been trying to form an official grouping ever since.