The Islamic State suicide bomber had a choice of targets as he walked through the lively Zuhoor shopping district in east Mosul on Sunday morning. Armed police were stationed on every street, but as the bomber approached a bustling traffic circle he spotted a truckload of Sunni tribal fighters and detonated his explosive belt between the pickup and a yellow cab.
The taxi was perforated like a cheese grater and splattered with gore, rolling to a stop over the site of the blast. Amazingly the driver survived, leaving behind a pile of small bills among the shards of glass on his seat. A fighter in the pickup was killed though, and four more injured, as were six civilians according to Saif Saad, a policeman who witnessed the explosion.
Saad did not include the bomber in his tally. The biggest bits of him left were his lower legs, lying either side of the taxi. Nearby in the gutter, a severed hand still clutched a detonator trigger. His scalp landed a distance up the road.
In the month since the Iraqi military announced the liberation of east Mosul, Islamic State attacks are increasing, even as security forces intensify a campaign of raids and arrests.
Sunday's suicide attack coincided with an announcement by the Iraqi Security Forces (ISF) of the start of the campaign to recapture west Mosul. The quick reversion to insurgent tactics by the Islamic State is seen as a sign that a military victory over the group will only mark the start of the more complex challenge of governing a city that has been ruled and reshaped by the extremist group for nearly three years.
Saad, a 35-year-old Mosul policeman, was standing nearby in the traffic circle and said the bomber had apparently selected his target on a whim. "I could have just as easily been the target," he said.
Seemingly unfazed, Saad pulled out his smartphone and filmed the aftermath. In his 12 years on the force he said he had survived two kidnappings and witnessed hundreds of similar incidents to Sunday's bombing.
It was not even the first time the square had been targeted recently. Across the circle, hoardings covered the charred shell of the Sayidati al-Jamila restaurant.
A popular local kebab joint, the "My Fair Lady" reopened soon after the liberation and its grilled meat dishes were immediately popular with security forces and locals hungry for normalcy after Isis. A suicide bomber targeted the restaurant on 10 February, killing 10 staff and diners.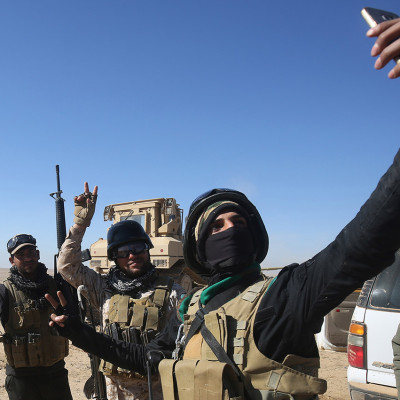 Daesh did their best to delay but they didn't try to hold terrain
A half dozen similar suicide attacks have been carried out in east Mosul since its liberation, in addition to Isis indiscriminately firing countless rocket and mortar barrages. Recently, more targeted attacks have been carried out with explosives dropped from drones.
The reversion to insurgency in east Mosul formed part of a broader strategy which saw the group withdraw the bulk of its leadership and foreign fighters across the Tigris River for a final showdown in west Mosul. The international coalition described this as a "a deliberate retrograde".
"Daesh did their best to delay but they didn't try to hold terrain" in east Mosul, the coalition air campaign's deputy commander Brigadier General Matthew Isler said in January, using the arabic acronym for Isis.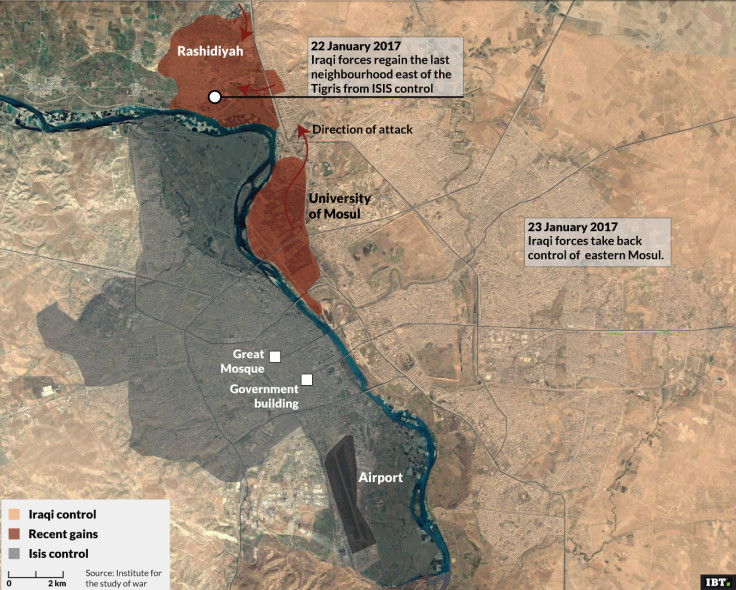 Watching the battle in realtime from a command centre in the nearby Kurdish city of Erbil, coalition advisors monitored feeds from dozens of drones flying above Mosul which showed an orderly withdrawal of fighters. "We saw their leaders leave first," Isler said, followed by foreign fighters. "Local guys were covering their egress."
Left behind were wounded fighters and sleeper units that could be activated to cause chaos and distract from military operations in west Mosul. The National Security Service (NSS) – Baghdad's intelligence agency – is now tasked with rooting out these cells.
"We are catching them one by one," said lieutenant colonel Hisham Ahmed Mahmoud of the NSS, speaking from his base in Bartella, a town outside of Mosul. He acknowledged though that he was expecting more such attacks.
Walking away the man kicked at an unidentifiable body part, and said in English: "Traitor."
He estimated that perhaps a dozen commanders and an unknown number of sleeper agents and Isis supporters were left behind when its main force withdrew to the west of the city. On Sunday afternoon, Mahmoud was preparing his men to act on a tip off about the location of a wounded Isis commander, but first he had to attend a security meeting to discuss the deteriorating situation in the city.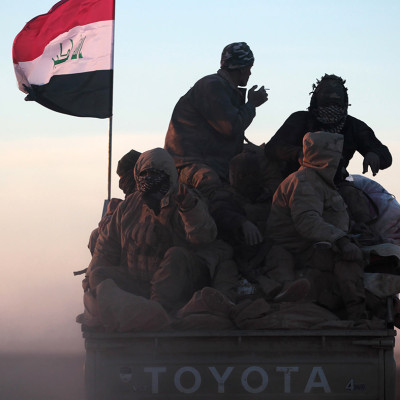 The task of securing east Mosul is made more difficult by the array of units – including army, federal police, local police and Sunni tribal fighters – which share responsibility for security. The local police force is slowly being rebuilt but there is still a shortage of trained officers.
The Islamic State's official media agency Amaq claimed two suicide bombings in east Mosul on Sunday, while local media reported further rocket and drone attacks.
Across the city, checkpoints were radioed intelligence that two further suicide bombers were on the loose, putting already anxious ISF soldiers on high alert. Back at the scene of the bombing, Saad hustled rubberneckers away from the scene of the blast. "Haji, what are you doing?" he cried out as a man picked through the soot smeared wares outside a bakery.
"I was just out for some bread," the man said. Walking away the man kicked at an unidentifiable body part, and said in English: "Traitor."
Saad meanwhile was philosophical about the risks he faced trying to restore order to his home city. "It's our duty to protect civilians and never run away. If I have to sacrifice myself for this country I will."