The FTSE 100 index of large UK-quoted companies is around its lows for this year, having lurched 7% lower in the latest sell-off this month. It sits today just above the key 6,000 level, having started this year around 6,600.
Global shares are not faring much better, with the MSCI World index 2% lower today than at the start of the year (Chart 1).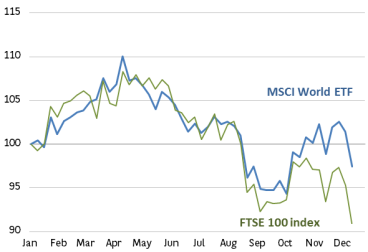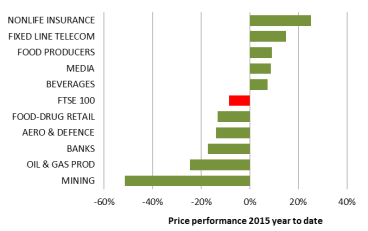 So the strong performance we saw from January to April, when the FTSE rose 8%, has been more than given away in the following 8 months.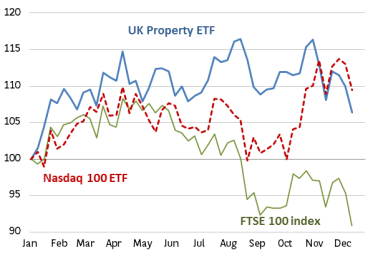 Where has the money been lost? Well, given the slump in global oil and commodity prices, it is perhaps unsurprising to find out that the Oil and Mining sectors have been the worst performers in the FTSE this year (Chart 2).
But it is not just these two sectors that have dragged the FTSE down this year; Banks have also been a poor performer, down 16% from the start of the year, led by Standard Chartered, which has lost nearly half of its value since the beginning of 2015.
What has done well this year? Property stocks, Nasdaq
Despite the FTSE's poor performance, there are some areas of the stock market that have performed well.
First of all, the UK real estate sector has done well with a 7% gain year to date, comprising property companies such as British Land, Land Securities and Hammerson.
Secondly, Technology stocks have done well, with US tech giants such as Microsoft and Amazon close to year highs.
This can be seen in the outperformance of the iShares UK Property ETF (code: IUKP) and the Powershares Nasdaq 100 ETF (code: EQQQ) since the beginning of this year (Chart 3).
Both of these exchange-traded funds have outperformed the FTSE 100 index by a wide margin over the year, by over 17% since January. And I think this can continue into the New Year as well.
Property supported by solid economic trends
The UK economy continues to grow well, which is precisely why the Bank of England is considering raising interest rates sometime this year. Property in particular is sensitive to economic growth trends, so should continue to deliver god returns on the back of this domestic trend.
Commercial property values continue to rise steadily, with strong growth in London and the South East in common with residential house prices, and still offer reasonable rental yields to investors. All of this suggests that the UK property ETF can continue to perform well into 2016.
Nasdaq helped by strong technology trends.
The Nasdaq technology-rich index in the US has performed well up to now, fuelled by strong performance of the four Tech Horsemen – Google (now called Alphabet), Facebook, Amazon and Microsoft.
The strong growth both in cloud computing and online retailing is fuelling these technology stocks, and should continue to drive profit growth in 2016 as well. So there is good reason to expect the Nasdaq index, and the Nasdaq 100 ETF, to continue to make further gains into 2016.
A 2016 stock pick: British Aerospace
If you are looking for a UK share to buy for 2016, then I would suggest British Aerospace (UK code: BA). Why? Well, because one key trend that I see is a substantial increase in defence spending by NATO countries including the UK, US, France and Germany next year driven by the need to intervene against Islamic State (Isis) more forcefully in Syria and elsewhere, plus to counter the rising military power of Russia.
British Aerospace is well-positioned to capitalise on this trend as it is a huge supplier of defence equipment such as aircraft, missiles and tanks to these countries. In addition, it pays a handsome 5% dividend yield, so also providing the investor with a generous dividend income too.
So those are my three investing ideas for 2016 that should benefit from a rebound in stock markets – the iShares UK Property ETF (IUKD), the Powershares Nasdaq EQQQ ETF (EQQQ) and British Aerospace (BA.).