Isis: Invest in BAE Systems as defence spending rises in face of Islamic State threat
With the world's great powers making war-like noises about Islamic State (Isis), we believe defence budgets are only going one way - higher. This will be a big change from the trends of the last few years.
Defence spending by Nato countries continues to decline in real terms, according to figures released by the alliance. The rate of decline slowed from a 3.9% fall in 2014 to an estimated 1.5% reduction this year, taking overall spending by the 28-nation alliance down to about $893bn (£595bn, €842bn), according to Nato figures.
Spending by Nato members (excluding the US) has declined at an even more rapid pace given the huge pressure on European government budgets. From 2009 to 2014, Nato (ex US) defence spending was cut by $45bn in real terms, a 15% cut over the 5-year period (Chart 1).
Last year, Britain, Estonia, Greece and the US were the only members to meet the goal of spending 2% of gross domestic product (GDP) on defence. Overall, the Nato countries together will only spend on average around 1.5% of GDP on defence this year (Chart 2).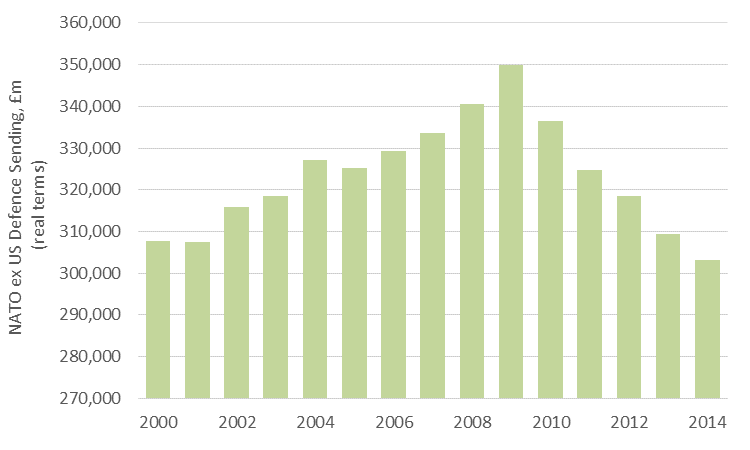 Defence spending to increase in 2016
However, spending habits are about to change due to:
the continued expansion of IS influence in both Syria and Iraq;
the pressure on European countries from the worsening refugee crisis; and
the greater geopolitical threat posed by Russia following the downing of a Russian fighter jet by Turkish military forces.
Nato members are belatedly realising the need to spend more on military forces, despite the obvious pressures on government budgets throughout the continent. Just this week Bloomberg reported that Europe's defence industry is set to reap a $50bn windfall as the attacks on Paris prompt governments to ramp up spending on military capabilities spanning cybersecurity to fighter jets, armoured vehicles and drones in an effort to defeat IS.
France, has halted plans to cut almost 10,000 military personnel, while Germany will spend an extra €8bn on defence and Britain has earmarked a further £12bn.
Russia has been outspending Nato for some time
While Nato has been busy cutting defence spending in the aftermath of the 2008 global financial crisis, on the back of greater pressure on government spending and the need for austerity, Russia has been quietly doing the exact opposite.
Despite the slump in the Russian economy on the back of sharply lower global crude oil prices, which is the main source of income for the Russian government, Russian military spending has been gradually increasing as a share of their overall economic budget.
After touching a low of just 3% of gross domestic product in 1998 in the years following the end of the Cold War and the fall of the Berlin Wall, Russian military spending increased to 4% of GDP and was held around this level until 2012. Since then it has risen sharply to now represent 5½% of GDP, according to Sipri (Chart 3). As a proportion of the economy then, this is nearly 4 times the proportion of spending of the average Nato country.
The broadening political influence that Russian President Vladimir Putin wields is now one key source of pressure on Nato members, particularly the newer Central and Eastern Nato members and former Warsaw Pact members such as Poland.

Who will benefit from higher defence and security spending?
Now, we should not forget that defence and national security tend to be highly nationalistic topics, with each European country tending to favour their own national defence companies wherever possible.
The largest defence industries in Europe reside in France and in the UK. In France, both Thales (who own the old UK Racal electronics businesses) and Safran are defence-oriented companies that should benefit from higher French military and security-related spending. In Italy, the obvious beneficiary is Finmeccanica, which owns such businesses as the helicopter maker Augusta Westland.
In the UK, the key company to invest in is BAE Systems (LON:BA). BAE is a huge defence supplier to the UK and US in particular, so are well-placed to see a pick-up in orders and sales from this change in trend in Nato defence spending.
BAE Systems has the added attraction of offering a good income, at around 5% in dividend yield annually. So you as an investor are paid to wait in this share. BAE would be my top pick of UK companies to buy into this defence spending boost.
---
Edmund Shing is Global Head of Equity Derivative Strategy at BNP Paribas in London. He holds a PhD in Artificial Intelligence.
---
© Copyright IBTimes 2023. All rights reserved.