Crude oil prices have been falling yet again on the back of an OPEC supply increase, with Brent crude oil back to its year lows at $43/barrel. World oil supply just keeps on growing, thanks to output from OPEC countries and the US (Chart 1).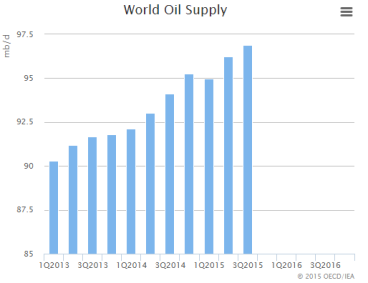 This is of course good news for motorists – Asda is passing on this lower cost, recently lowering the price of a litre of unleaded petrol to under £1 on Black Friday. This is the first time that the UK has seen petrol prices this low since 2009. Across the whole country, unleaded petrol prices averaged 108p in November, 12% lower than a year earlier (Chart 2).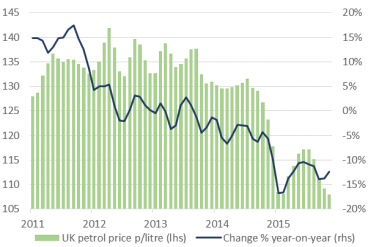 Who wins from this price fall? Evidently not the oil companies like BP and Shell. Well first and foremost, it is the consumer who benefits.
We can think of the cost of oil as a tax levied on the economy and on households – so the lower the cost of crude oil and thus petrol, the better off we all are as we have more money to spend on other things instead, like Christmas presents. In the short-term, the retail sector will benefit to some extent, given that we have spent a lot more this Black Friday weekend than in years past, driven largely by heavy promotional activity.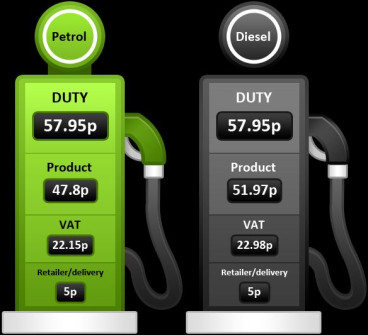 Lower oil prices are good for airlines, logistics, car companies
In the US, it is clear that the sharply lower gasoline prices there have spurred consumers to buy larger, more expensive gas-guzzling cars such as pick-up trucks and 4x4s, boosting the profit margins of carmakers such as GM, Ford and the German carmakers BMW and Mercedes.
This is less true in Europe, where taxes (North Sea petrol revenue tax, petrol duty and VAT) make up the bulk of the petrol price we pay at the pump (Figure 3).
Companies with high fuel costs are the other obvious beneficiaries of falling oil prices. This includes both airlines and logistics companies, i.e. companies that use vans to deliver parcels.
Airlines: IAG and Ryanair get a fuel boost
In the UK, airlines that should benefit the most from lower fuel costs include the flag-carrier International Consolidated Airlines (LON:IAG), the parent company for British Airways and Spain's Iberia.
Thanks in part to the lower fuel costs for next year and beyond, IAG is expected to show strong growth in profits (earnings per share forecast to rise from €0.72 per share this year to €0.96 in 2016), which should translate into a much higher dividend paid to shareholders. In addition, IAG should benefit from cost savings that result from the merger with Iberia, and now the acquisition of Irish flag carrier Aer Lingus.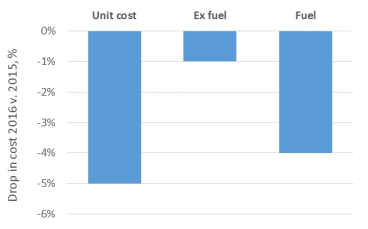 In the low-cost airline sector, Ryanair (LON:RYA) is probably the single biggest winner from lower fuel prices, which together with strong traffic growth is driving Ryanair's profitability ever higher. Ryanair expects unit costs (costs per passenger carried) to fall by 5% in the coming year, of which 4% is due directly to lower fuel costs (Chart 4). While good for Ryanair's bottom line, this should also benefit passengers as Ryanair has pledged to pass much of the fuel cost saving onto passengers in the form of lower air fares.
Parcel Delivery: Royal Mail stands out
Another sector that should do well out of the combination of lower fuel costs and the Christmas parcel rush is Royal Mail (LON:RMG). Thanks in large part to lower fuel prices, Royal Mail is achieving lower distribution costs, which helps to support a growing dividend (forecast to grow by 6% next year), making Royal Mail an attractive income payer with a dividend yield of close to 5%.
So, some of the top companies to benefit from oil prices at new lows are IAG, Ryanair, and Royal Mail.
---
Edmund Shing is Global Head of Equity Derivative Strategy at BNP Paribas in London. He holds a PhD in Artificial Intelligence.
---