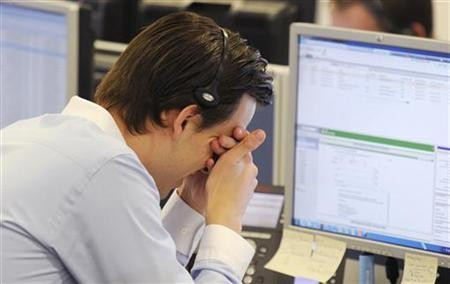 Revenues from Britain's 350 largest publicly-listed companies rose at their slowest rate for five years in 2012 as profits plummeted by 30%.
According to the Share Centre's Profit Watch UK report, total FTSE 350 revenues lifted by just 2.1% across the year, reaching £2.07tn (€2.4tn, $3.16tn), the only annual real-terms decline since 2007. Net profit was down to £114bn.
"Domestic economic weakness is partly to blame. UK GDP flatlined in 2012, and it is clear this is reflected in firms' sales," said the Profit Watch UK report.
"Global trends have also caused significant headwinds, while the prolonged recession in Europe, by far the UK's largest export market, has clearly had a major effect on the performance of UK companies."
The profits drop was spread broadly across sectors, with 18 of the 37 seeing a fall.
There is huge disparity between the biggest firms and those below them. Top ten firms, which include Royal Dutch Shell, HSBC and BHP Billiton, account for 50% of all FTSE 350 revenues and 57% of profits.
"This proportion has remained remarkably stable over the last six years, despite the convulsions caused by the financial crisis and subsequent recession," said the report.
Some of the weakest performing sectors in 2012 were pharmaceuticals, finance firms and industrials.
Global economic trouble is likely to continue for some time. The International Monetary Fund (IMF) slashed its global growth forecast to 3.3% in 2013, down from 3.5%, as government austerity and weak demand drags on output.
Advanced economies, suffering the brunt of public cuts, will grow by just 1.2%.
The UK has also had growth forecasts downgraded by the IMF as it is pummelled by Europe's woes.
IMF economists say the UK economy will grow by just 0.7% in 2013.