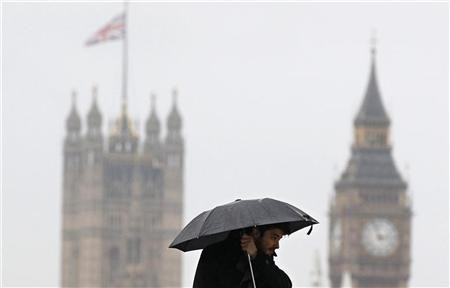 International Monetary Fund economists have slashed the UK's growth forecast again, predicting just 0.7 percent expansion in 2013, and suggested that the government ease up on its austerity in the short-term to help bolster the ailing economy.
Spiralling public debt, continuing weakness in domestic output, and dampened demand in some of the UK's key export markets have all weighed heavily on the economy.
The IMF World Economic Outlook report said that because of the UK's demand problem "consideration should be given to greater near-term flexibility in the fiscal adjustment", a nudge to Chancellor George Osborne that he should slow the pace of his cuts to public spending or risk dragging the economy further down.
"With recent data from our business surveys suggesting that growth at the beginning of this year was broadly flat, it's not surprising that the IMF has lowered its forecast," said Stephen Gifford, director of economics at the confederation of British Industry (CBI), Britain's biggest business lobbyist.
"Consumers are being squeezed by high inflation and low wage growth and business confidence remains unsettled, so the pace of growth is expected to be muted through 2013."
The IMF also cut its 2013 growth estimate from the previous prediction of 1 percent. Before that it had forecast 2 percent growth for the UK economy in 2013.
It has also slashed its 2014 growth forecast by 0.3 percent, to a 1.5 percent expansion across the year.
"Three years ago the chancellor boasted that the IMF was fully behind his economic plans, but now it has downgraded UK growth by more than other advanced economy due to lacklustre demand," said Frances O'Grady, general secretary of the Trades Union Congress.
"The chancellor should listen to the IMF and reverse course by investing for growth and jobs. This would not only get the economy moving again but would also bring down the deficit more quickly in the medium term."
Moody's Investor Services, one of the world's top three credit rating agencies, recently stripped UK public finances of their AAA status because of the economy's worsening outlook.
Public debt sits above £1tn and is forecast to keep rising as a portion of GDP until at least 2016/17 - peaking at 85.6 percent - two years later than Osborne had said it would.
Weaker than predicted output and the longest double-dip recession since the Second World War have flattened tax receipts, leaving the government forced to borrow more to maintain current spending - despite public sector cuts under its austerity programme.
The UK looks as though it has narrowly avoided an unprecedented triple-dip recession as service sector output picks up more than anticipated, helping to offset declines in construction and manufacturing.
The consensus among economists is that there should be 0.1 percent growth in the first quarter, following a 0.3 percent decline in the final three months of 2012.
---
Follow @shanecroucher