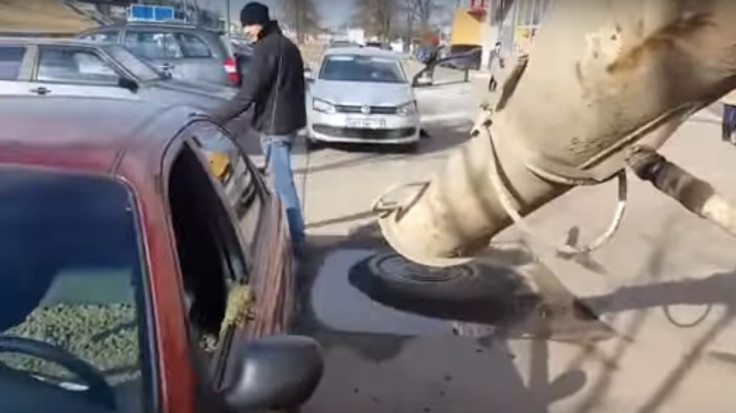 A furious husband decided to enact an unusual form of revenge upon his wife after she allegedly changed her surname without telling him.
The unnamed Russian man, from the northern city of St Petersburg, is claimed to have retaliated by filling her car with cement, amid conflicting reports that his wife had also confessed to being unfaithful.
Local media reports state the man initially ordered a concrete mixing lorry to meet him in the car park of a local shop.
Bystander footage then shows the man directing the the mixer towards his wife's car, before finally giving the all-clear for the hardening agent to be poured through the driver's window.
The vehicle is then filled up to window level with concrete, while giggles of disbelief can be heard in the background of the video.
The Daily Mail report that the husband admitted that he and his wife were going through a "rough patch'"
But the final straw came when she changed her last name to that of a supermarket, called Veniy (Loyal), after the chain offered a promotion.
The store offered to pay 50,000 RUB (£703) a month to any customer prepared to legally change their surname to their brand name for advertising purposes.
A clip of the incident was passed the onto local TV stations and spread online, with many wondering what the wife's reaction would be when she saw her car in such a state.
The video, which has received more than 1.8 million views and thousands of comments in just a few days online, includes a post from user Aleksei Fokin, musing: "I wish I could see his wife's face".