The bodies of the Swiss couple, who went missing in 1942 and whose frozen bodies were found earlier this month, were buried on Saturday (22 July) following a ceremony attended by family in southwestern Switzerland.
Marcelin Dumoulin, 40 and Francine Dumoulin, 37, were parents to seven children, two of who are still alive and were present at the funeral service in Saviese. The couple's great-grandchildren also attended the ceremony.
The couple's youngest daughter, Marceline Udry-Dumoulin, earlier told Lausanne daily Le Matin that she and her siblings "spent our whole lives looking for them".
Marcelin was a shoemaker, while Francine was a teacher. They had gone to milk their cows in a meadow above Chandolin in the Valais canton on 15 August 1942 and never returned.
"Three-quarters of a century later the family can at last stop asking the question: 'What happened to them?'" a priest was quoted by Switzerland's The Local as saying during the service.
Valais cantonal police had discovered the two bodies earlier this month on Tsanfleuron glacier above Les Diablerets resort at an altitude of 2,615m (8,600 ft).
"The bodies were lying near each other. It was a man and a woman wearing clothing dating from the period of world war two," Bernhard Tschannen, the director of Glacier 3000, had told Lausanne daily Le Matin when the bodies were discovered.
"They were perfectly preserved in the glacier and their belongings were intact."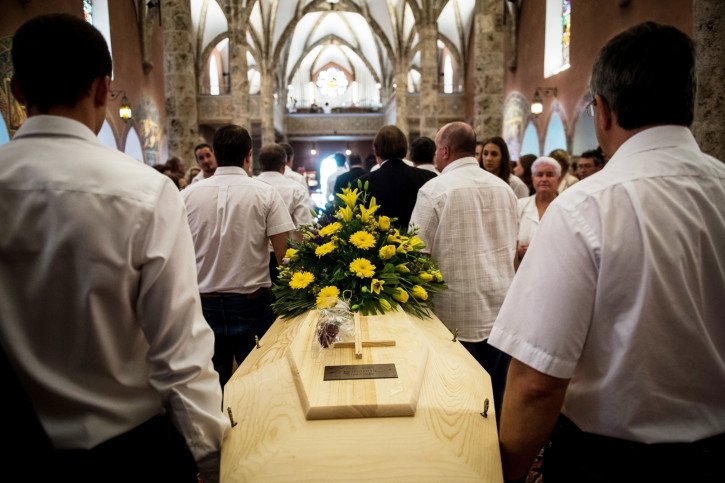 Other bodies found
Over the past several years, the shifting and shrinking of ice has yielded the bodies of people missing for decades.
"Given the current shrinking of glaciers, we have to expect more and more such findings," Bettina Schrag, cantonal head of forensic medicine, told Swiss public radio RTS, Reuters reported.
In a similar case, the remains of two Japanese climbers who had gone missing in 1970 on the Alps' Matterhorn Mountain in 1970 were found on a glacier in September 2016.
"The ice can be both this great tool of preservation, but it can also do funny things to pull apart and warp large objects", Dr Twila Moon, a research scientist at the National Snow and Ice Data Center, told NBC News.
George Mallory
In 1924, famed climber George Mallory disappeared on Mount Everest's peak. Seventy five years later, in 1999, mountaineers found his frozen body.
The body was found with name tags and notes on his clothing. Mallory is believed to have reached the Everest summit nearly 30 years before Tenzing Norgay and Sir Edmund Hillary, but what happened during the expedition is a mystery.
Alaska plane crash
In 1952, an Air Force plane crashed into Mount Gannett in Alaska and was buried inside Colony Glacier east of Anchorage for over five decades.
During the summer of 2012, the glacier melted and the wreckage of the flight that killed 52 men was discovered. Human remains emerged a year later and the bodies of at least 31 victims have reportedly been recovered.
5,000-year-old Iceman
In September 1991, hikers discovered a frozen corpse in the Ötztal Alps along the Italy-Austria border.
The body nicknamed Ötzi the Iceman, is said to be dated to around 3300 B.C. The body is one of the oldest and most well-preserved in existence.
According to The New York Times, the glacier froze him and the high humidity in the area kept his organs and skin in good condition. Investigators and scientists concluded that he most likely died in an altercation, but he also had various health issues, including an intestinal parasite.