A controversy has erupted in small town America after a handful of high school teachers erected LGBT rainbow flags in their classrooms.
One parent of a child at Banks High School in Oregon told a local radio station that the Pride flags were put up in place of the US Stars and Stripes, although head teacher Jeff Leo assured them this was not true.
Stars and Stripes aside, the introduction of LGBT flags has still proved divisive a divisive issue among the north-west town.
Critics allege that the flags breach amounts to political campaigning by the staff members, which is prohibited by the school district's own code of conduct.
But Leo hit back in an open letter on the school's website, saying: "We are following our school board policies and Oregon State Law. These explicitly state no student shall be discriminated against in a school setting."
In an email exchange with KATU 2, another parent repeated the allegation that an American flag had been taken down and been replaced with an LGBT flag. Their entire claim is based on a student's testimony and has not been corroborated by any hard evidence.
The parent wrote: "This is NOT about discrimination of students' rights. It is about the teachers hanging a biased, opinionated, sectarian belief symbol in their classrooms and handing out pins to students that say the same thing."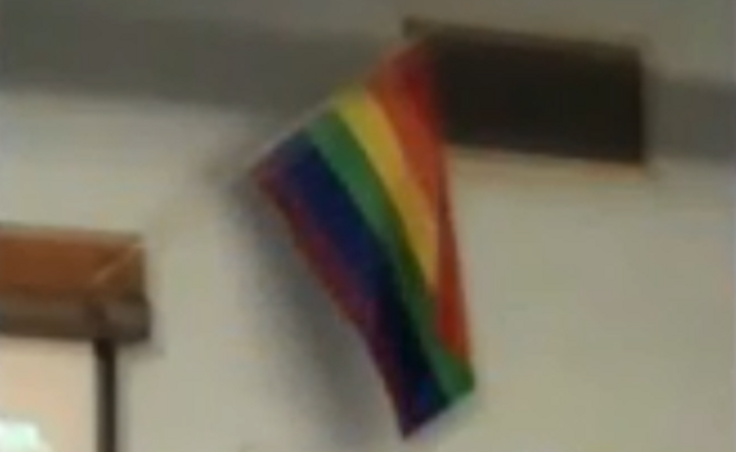 Leo replied: "This isn't a political statement, it is a statement about teachers wanting to support students that they serve. The LGBTQ community is a recognized protected class by federal law. No, an American flag was not taken down by a teacher and replaced by a rainbow flag. There have not been pins being handed out by teachers."
Leo further claimed that Pride flags were allowed on campus wheres, for example, Confederate flags were not. He added that the latter were considered "hate speech".
Amid the furore between a small number of angry parents and the school, one student has put his head above the parapet and spoken to the local media.
Bisexual senior Skyler LaMotte said: Knowing that there's a teacher here who acknowledges that there are kids of different sexualities and genders – it really makes me feel just homelike."
"The [rainbow] flag has more meanings than just gay pride. It shows that love is love. Everyone should be treated equally," LaMotte added. "The fact that people feel that it is not just and not American makes me feel just a little unwelcome."