G20: Protesters Bury Heads in Sand to Ridicule Tony Abbott's 'Embarrassing' Climate Change Inaction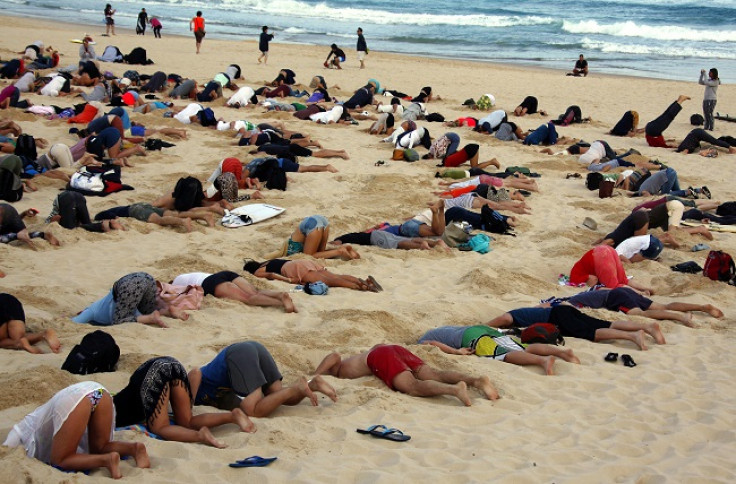 Hundreds of protesters took to Bondi Beach in Australia to literally bury their heads in the sands to mock Prime Minister Tony Abbott for not putting climate change on the agenda at the G20 summit this weekend.
Australia has become one of the only countries to reverse action on global warming by repealing a tax on greenhouse gas emissions.
The cheeky demonstration also comes as Abbott stated "jobs and growth" should be the focus of the summit and not "what might happen in 16 years' time".
His actions have been described as embarrassing for "progressive Australia" in light of the United States and China signing up to limit their emissions.
"Obama's on board, Xi Jinping's on board, everyone's on board except one man," activist Pat Norman, 28, shouted into a megaphone on the beach. To which the crowds shouted: "Tony Abbott!".
Lightening the mood, she bellowed: "Wiggle your bum if you feel like it."
The demonstration was made up of a range of people from parents with babies to business people in suits digging holes in the sand and burying their heads.
Justin Field, a Green Party candidate, said his country had to act.
"To be so far behind the rest of the developed world embarrasses progressive Australia," he said.
© Copyright IBTimes 2023. All rights reserved.