Gabon's opposition leader, Jean Ping, who claims he was cheated of victory during the recent elections, has doubled down on his refusal to answer the call for dialogue launched by President Ali Bongo Ondimba, instead urging France to intervene.
Setting the stage for a potentially violent showdown, Ping called for the Gabonese to "massively reject" the legitimacy of Bongo's 27 August re-election, despite the constitutional court of Gabon upholding Bongo's re-election and dismissing Ping's calls for a recount. In a bid to ease the simmering tensions, Bongo later promised a national dialogue, but Ping said he would refuse "to go to any dialogue under the aegis of this impostor".
Less than two months down the line, the situation is still tense in Gabon. Ping has systematically rejected the outcome of the elections and has been appealing for support from former coloniser France and African counterparts.
Speaking to the BBC, Ping blamed this apparent lack of support – specifically from Idriss Deby, chairperson of the African Union, who "took note" of Bongo's re-election – on the institution's structure.
"Taking note does not mean that [Deby] accepts or approves. Deby is only 'taking note'. Secondly, the AU is not a supra-national organisation with the dimensions we [can attribute] to the European Union. It's an inter-governmental organisation, which means that the organ that takes the decisions is the conference of heads of states, and the commission executes," Ping said.
Ping: 'I am in the position of Ouattara in Ivory Coast in 2010'
The opposition leader chaired the AU Commission and was criticised for failing to take a stand following Ivory Coast's 2010 embattled elections when he instead sought a "negotiated solution" to resolve the dispute between warring presidents.
In 2010, former Ivory Coast President Laurent Gbagbo contested the result of the presidential election that saw opposition leader Alassane Ouattara emerging as winner and refused to step down – sparking violence that caused the deaths of at least 3,000 people.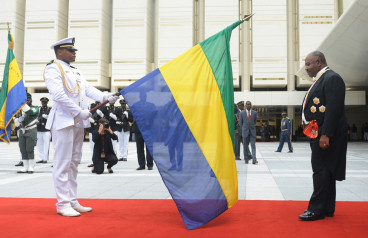 Answering claims that he may have fallen victim to a system he himself contributed to, when the AU asserted Gbagbo's victory and failed to set a precedent in Ivory Coast, Ping said: "It could have been used as a precedent because no one knows what happened. I find myself in the position of Ouattara yesterday in Ivory Coast."
Likening opponent Bongo to former Ivorian president Gbagbo, who "controlled the military and the streets", Ping claimed "Ali [Bongo]'s situation today is the same as Gbagbo had yesterday.
"If the AU was substantial enough, it would ask Ali Bongo to accept the proclaimed results," the political leader explained. "If we were really comparing the situations today, France should have used force to remove Ali Bongo," Ping said, referring to French military operations against Gbagbo loyalists in 2011 before he was captured by Ivorian and French forces on 11 April 2011.
Gbagbo is now standing trial at the Hague-based International Criminal Court (ICC) on four counts of war crimes and crimes against humanity for the post-election violence sparked in 2010. "What I know is that Gbagbo is now at the Hague – and Ali will end up at the Hague."
While French Prime Minister Manuel Valls requested a recount of the vote in September, France is now urging Ping to start a dialogue with Bongo.
"When someone is elected by the people, and that it is recognised by everyone, and that person is asked to go and negotiate, do you think it is easy? Gabonese don't want that. They are saying if Mr Ping accepted to dialogue in this manner, he would have betrayed us. We'll go and burn [his home]. I am not a traitor," Ping said.