The trial of former Ivorian President Laurent Gbagbo and Charles Blé Goudé, a former youth minister and a pro-Gbagbo militia leader, will begin on Thursday 28 January at the International Criminal Court (ICC) in The Hague.
Violence erupted in the West African nation after Gbagbo, who had been Ivory Coast's president since 2000, refused to accept rival Alassane Ouattara' s victory in the November 2010 presidential run-off. Gbagbo's refusal to leave office led to an armed conflict during which serious human rights violations were committed by both sides.
What happened in Côte d'Ivoire?
There have been tensions between pro-Ouatarra and pro-Gbagbo supporters for years in Cote d'Ivoire – a very politically divisive place.
"The difference, however, was when it became clear he had lost the election in 2010, forces loyal to him went on to commit grave abuses because they were desperate for him to stay in power. Whether or not he directed them to do that, will be investigated by the trial," Param-Preet Singh, counsel for the International Justice Program of Human Rights Watch told IBTimes UK.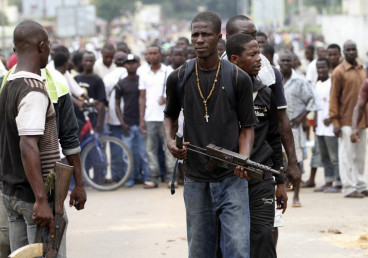 Certainly among Gbagbo's followers, there was a lot of carnage. More than 3,000 were killed by the end of the conflict, over 150 women were raped or gang-raped, people faced summary executions and villages were burned to the ground.
Gbagbo-linked elite security force units abducted local political leaders associated with Ouattara's coalition, dragging them away from restaurants or out of their homes into vehicles. Family members later found the victims' bodies in morgues, riddled with bullets.
Pro-Gbagbo militias at informal checkpoints throughout Abidjan assassinated many real or perceived Ouattara supporters, beating them to death with bricks, executing them by gunshot at point-blank range, or burning them alive, Singh explained. These security forces and militia groups targeted and often gang-raped women active in mobilizing voters. Some were targeted for simply wearing pro-Ouattara campaign t-shirts.
There have also been reports that victims in Cote d'Ivoire's western provinces were targeted solely on the basis of their ethnicity by Gbagbo militiamen and allied Liberian mercenaries.
Why is this trial so important?
To date, there still hasn't been any accountability in Cote d'Ivoire, which is why this trial is so important.
Timeline of Laurent Gbagbo's trial
11 April 2011 - Ivorian authorities capture Gbagbo
25 October 2011 - Prosecution application for warrant of arrest
30 November 2011 - Pre-Trial Chamber issues warrant of arrest
30 November 2011 - Gbagbo is transferred to the ICC's custody
5 December 2011 - Initial Appearance at ICC
19-28 February 2013 - Charges against Gbagbo outlined during a hearing
December 2014 - Pre-trial chamber confirms charges against Blé Goudé
12 June 2014 - Decision on the confirmation of charges against Gbagbo
March 2015 - Gbagbo and Blé Goudé cases joined since the two men's conduct in the crimes alleged is "closely linked". Start of trial pushed back until 10 November
Late October 2015 - Trial date postponed again following a request by Gbagbo's defense team to the ICC judges to assess Gbagbo's fitness to participate in the trial
November 2015 - Judges find that Gbagbo is fit to stand trial
28/29 January 2016 - Opening of the trial. The court has authorised over 700 victims to participate. Judges will hear the opening statements for three groups (prosecution, the victims' representatives and defence)
Week starting 1 February - Witness testimonies, and according to the filings, the prosecution is expected to call over 130 witnesses
Firstly, this is because when Gbagbo came to power in the early 2000s, the nation was essentially divided between Ouattara's home department of Kong in the country's north and the southern portion and the economic capital Abidjan, which was under Gbagbo's control. "That situation was not conducive to realising justice," Singh said.
Secondly, under Gbagbo, the justice system decayed and courts stopped functioning. "There wasn't any investment in law or courts at that time, so the idea of bringing a sitting head of state to justice was just impossible, at the domestic level," she explained. Indeed, there still hasn't been any national trial in Cote d'Ivoire, despite things moving forward.
"This is in part because the ICC has created this expectation of justice that the national authorities also have to fulfil," Singh said. "That's why it was such a big deal when Gbagbo was surrendered to the Hague (ICC) in 2011 because it felt that, for the first time, there might actually be hope that there could be justice after so long – more than a decade of impunity – in Cote d'Ivoire."
Thus, it is the first time a former head of state is tried by the ICC, which has charged both Gbagbo and Blé Goudé with crimes against humanity, including murder, rape and other forms of sexual violence, other inhumane acts, and persecution (See What are the charges against Gbagbo and Blé Goudé?).
According to Singh, the ICC decided to join Blé Goudé's case to Gbagbo's after it determined Blé Goudé was part of Gbagbo's "inner circle" which devised a plan to maintain Gbagbo as president by any means, including allegedly using force against civilians. In March 2015, an Ivory Coast court sentenced Gbagbo's wife Simone – nicknamed the Ivorian 'Iron Lady' at the time when her husband was in power – to 20 years in jail for her role in the violence. Gbagbo's trial is expected to last a couple of years before it is completed.
One-sided trial?
While these clear actions against Gbagbo's side is important for Cote d'Ivoire and the region more generally, the conflict was raged by two sides. Right now, however, only one side is in the dock, and the ICC has not brought any charges against suspects on the Ouattara side.
In October 2015, Ouattara – a 73-year-old former International Monetary Fund official whose leadership has helped Ivory Coast re-emerge as a rising economic nation following the post-electoral war with an impressive 9% growth in 2015 – secured a second five-year term with more than 83% of votes.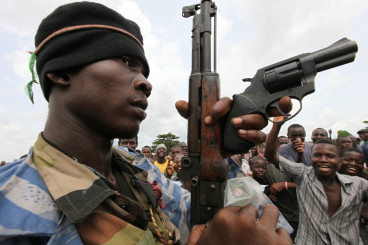 "In that sense, it sends an unfortunate message about victor's justice," Singh said, referring to claims of impartiality from the ICC after it failed to pursue cases against both sides simultaneously.
ICC prosecutor Fatou Bensouda, meanwhile, has repeatedly stressed her office's impartiality, confirming in 2015 that her investigations ongoing.
Singh, who is calling on the ICC to pursue and take concrete steps towards Ouattara's side, said the lack of action "still underscores why it is so important to gather the evidence needed to support the arrest warrant and trial of those who supported President Ouattara, who also need to answer for grave abuses."
Abuses by pro-Ouattara forces – which included the FRCI (Republican forces of Ivory Coast) – reached a comparable level after they began a military offensive in March 2011 aimed at taking control of the country, where they massacred several hundred civilians from ethnic groups associated with Gbagbo, raped women and burned villages to the ground.
---
What are the charges against Gbagbo and Blé Goudé?
According to the ICC, Gbagbo is accused of having committed four counts of crimes against humanity in Abidjan, Côte d'Ivoire (Ivory Coast), jointly with members of his inner circle and through members of the pro-Gbagbo forces. He is also accused of ordering, soliciting and inducing the commission of these crimes. These include: murder, rape, inhumane acts including attempted murder and persecution.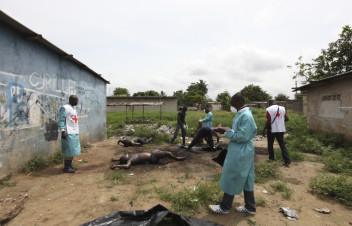 The Prosecutor alleges that between 16 and 19 December 2010, in Abidjan, during and after a pro-Ouattara march on the RTI headquarters, during which the pro-Gbagbo militias killed at least 45 persons, raped at least 16 women and girls, and wounded at least 54 persons.
On 3 March 2011, pro-Gbagbo forces allegedly killed seven women and wounded at least three persons who had participated in a pro-Ouattara women's demonstration in Abobo commune in Abidjan. The women were demanding Gbabgo's resignation and were unarmed. On 17 March, pro-Gbagbo forces killed at least 40 persons and injured at least 60 in or near Abobo market by shelling the densely populated area - where Gbagbo's men claimed pro-Ouattara combatants were positioned.
On 12 April 2011 in Yopougon, prosecution claimed pro-Gbagbo forces killed at least 75 persons, raped at least 22 women and wounded at least two persons. Attackers, armed with guns and machetes, attacked people on the street and broke into homes, killing, raping and injuring residents, hailing primarily from mostly from the Dioula group, the north of Côte d'Ivoire and West-African countries. A number of mass graves were subsequently discovered in Yopougon.