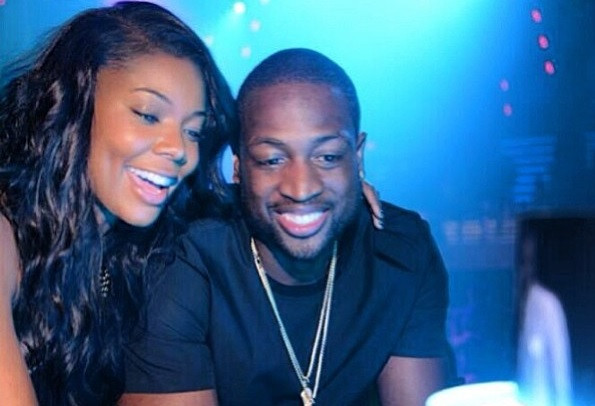 Gabrielle Union and Dwayne Wade have set a date for their wedding. The Hollywood actress and basketball star's official 'Save the Date' has leaked online and it looks like summer wedding bells will be ringing for the superstar couple.
According to the special heart-shaped reminder, they will be exchanging vows in Miami on 30 August.
"Save The Date. To party with us after the I Dos! Gabrielle and Dwyane. August 30, 2014 Miami, Florida. Invitations to follow," the reminder read.
While the couple may be excited about their pending nuptials, it definitely won't be an extravagant affair. Union recently revealed that the guestlist was very small and only a select few would be invited to witness her big day.
"No bridesmaids. No bridesmaids, no groomsmen," she said during an appearance on the Arsenio Hall show. "It's us and the kids. We're just riding out. Just us. There's a lot of people that think they're coming. And they're not."
After admitting that their relationship has not always been bliss, it's no surprise that Union wants her wedding to be a relatively private affair.
Last year, weeks after he proposed to Union, Wade revealed that he had conceived a love child during the couple's brief split in 2013.
"I had a time, a part in our break, in our pain and our hurt, a blessing came out of it in my life, having a son that was born healthy," Wade said.
"This is something that my family knows and my now fiancée worked through when we got back together, and understood that we wanted to continue our lives together and continue supporting our family and we're going to do that."
In the wake of the scandal, Union said that she chose to forgive the NBA star, who has two sons from a previous marriage and is also raising his nephew, because she felt their relationship was worth saving.
"I'd always wanted an awesome career with back-to-back projects, but I realised I wasn't willing to sacrifice my relationship for it. Moving forward, I decided my work schedule has to make sense for our family," she told US Glamour magazine.
"Bottom line: If an issue's a deal breaker, it's a deal breaker. If your relationship isn't something you're willing to give up and you can compromise, do so," she added.