Galaxy A5 '3D Graphics Performance' Reveals Use of 64-bit Processor, Android 4.4.4 and 13MP Camera
Galaxy A5 to cost between $400 and $450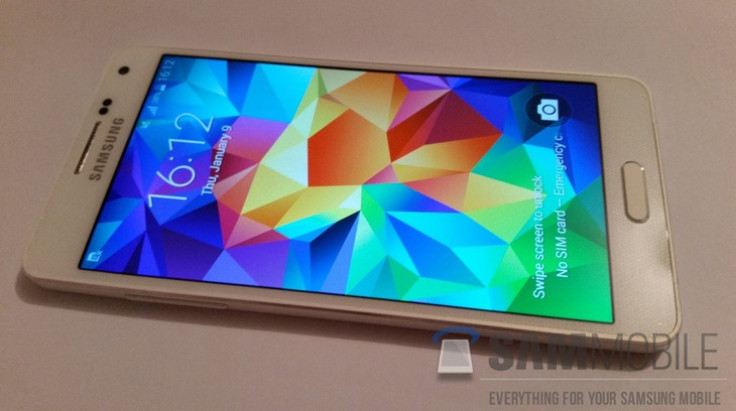 The technical specifications for Samsung Galaxy A5, a Galaxy A series smartphone, have leaked through a benchmark.
GFXBench has revealed the 3D graphics performance of Samsung SM-A500, which is Samsung's mid-range Alpha range handset. According to the listing at the site, the Galaxy A5 sports a 4.8in screen with resolution measuring 1280 x 720 pixels.
The data suggests the use of a 13 megapixel rear camera and a five megapixel front facing camera with both capable of full HD video recording at 1920 x 1080 pixels.
The Snapdragon 410 chip with 1.2GHz quad-core CPU is the power house of the handset with Adreno 306 graphics unit. But this is contrary to the previous rumour, according to which the Galaxy A5 will use a Snapdragon 400 chip.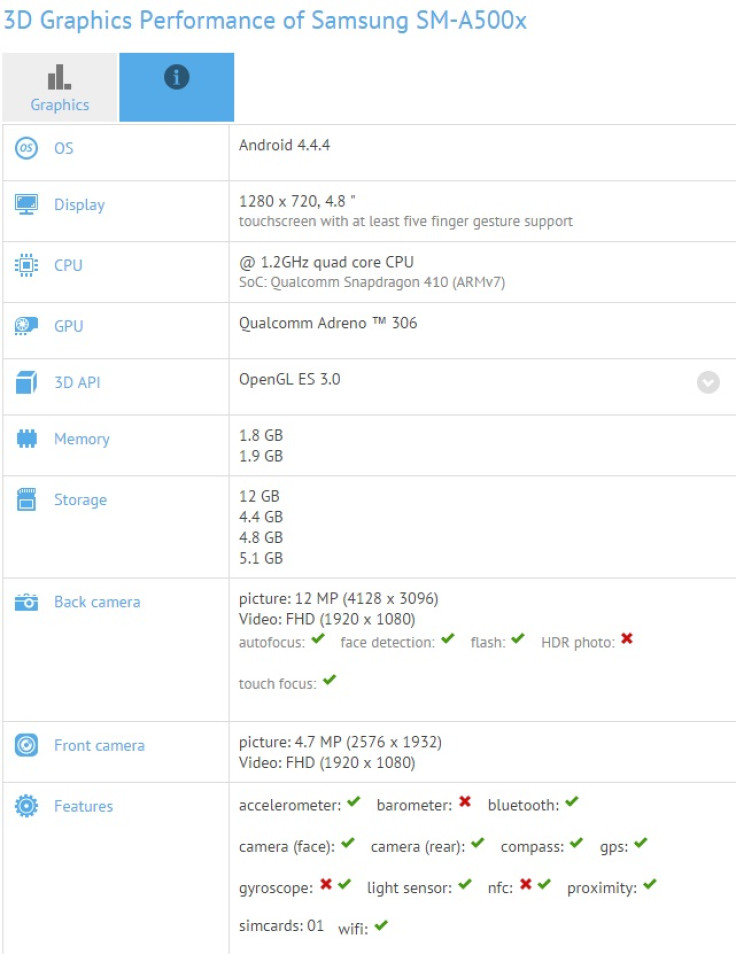 However, if the benchmark is to be believed, then Galaxy A5 will pack a processor (Snapdragon 410) that supports 64-bit processing, reports PhoneArena.
The benchmark also reveals 2GB RAM, 16 GB storage and Android 4.4.4 software. Most of the features in the current leak match with the previous version.
Those who want to see how the metal build looks on the Galaxy A handsets, check out the photos below, shared by AndroidMX through a tweet post, which claims that the Galaxy A5 in the photo uses a 100% aluminium body.
In another photo, the Galaxy A5 is placed beside the Galaxy A3. Both the handsets are expected to be launched in the coming months.
As for the Galaxy A3, the device is expected to feature dual-SIM card slots with LTE connectivity. The Galaxy A5 will cost between $400 and $450 whereas the Galaxy A3 will be priced at $350 to $400.
Apart from Galaxy A5 and A3, Samsung has been rumoured to be working on Galaxy A7 featuring a 5.5in screen and dual-SIM capacity with retail price around $500.
© Copyright IBTimes 2023. All rights reserved.