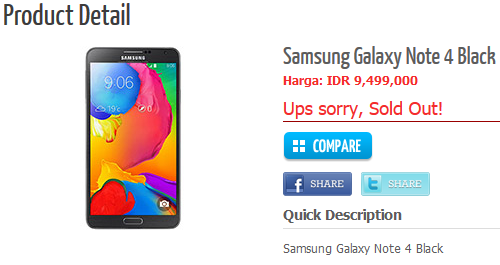 The full specifications of the latest product in Samsung's large smartphone/small tablet Galaxy Note range have leaked online, just weeks ahead of the official launch of the smartphone.
An Indonesian retailer has put the Galaxy Note 4 up for pre-order on its website, listing a full spec sheet for the phone, confirming many of the details which had already been leaked.
The Galaxy Note 4 is widely expected to launch at the IFA technology conference taking place in Germany in the first week of September.
According to the leaked spec sheet on Eraphone, the Galaxy Note 4 will retains the 5.7in screen seen in last year's model but the resolution will be significantly increased to 1440 x 2560 pixels, giving it a pixel density of 515 pixels per inch (ppi) - just short of the LG G3's market leading 534ppi.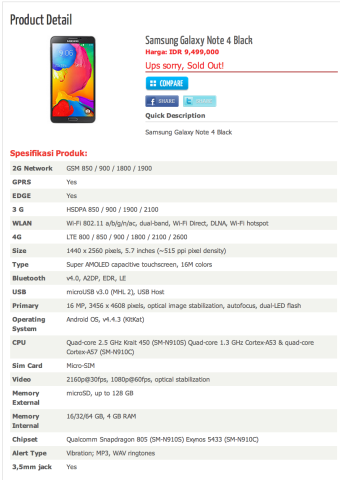 As usual with Samsung's smartphones, the Galaxy Note 4 will come in two versions, one powered by a quad-core 2.5GHz Qualcomm Snapdragon 805 processor while the other will be powered by Samsung's own Exynos 5433 chip.
Both models will come with a huge 4GB of RAM and will run Google's Android 4.4.3 (Kitkat) software.
The Galaxy Note 4 is also taking a big step forward in terms of imaging, with the rear camera featuring a 16 megapixel sensor, along with optical image stabilisation and dual-LED flash.
The phone/phablet will be available in 16GB, 32GB and 64GB variants, with a microSD card slot also available to add up to 128GB of extra storage.
The Eraphone pre-order - which is now sold out apparently - lists the Galaxy Note 4 for less than £500, but considering the Galaxy Note 3 cost £650 when it launched last year, we would expect the UK price of Samsung's newest smartphone to be a lot higher.
The question of course is, is this listing an accurate representation of the Galaxy Note 4? And the answer is that we don't really know.
It looks genuine enough and the specs are in line with what has been reported previously, but of course it could be that the retailer is simply using the specs from these reports to populate its database - rather than getting genuine details from Samsung.
Whatever the case, we won't have to wait long as Samsung will hold its Unpacked event on 4 September, where the company is also set to launch a virtual reality headset to rival the Oculus Rift.