There is more good news for US smartphone geeks, T-Mobile, AT&T and Sprint have finally announced release dates and availability for the eagerly awaited Samsung Galaxy S3, for their networks. The carriers' announcements have come less than 24 hours after official announcements from Samsung confirming the release of the S3 on all five major networks across the US.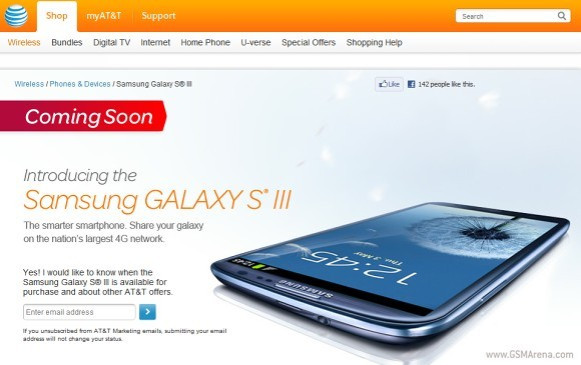 The AT&T version is available at $199 for the 16GB variant on a two year contract, similar to offers from other carriers in the US. It must, however, be noted that AT&T will not support 32GB variants and instead will provide the 16GB microSD card on-demand-upgrade option for an additional $39 along with the 16GB model. However, besides the Pebble Blue and Marble White variants, AT&T will also offer a red coloured S3, which should make up for the lack of an outright 32GB model.
"The addition of the Samsung Galaxy SIII to our portfolio of 4G-LTE devices gives our customers another truly cutting-edge smartphone to choose from. With an exclusive red color this summer and the power of the nation's largest 4G network, AT&T delivers the best wireless experience for Galaxy S3 fans," said AT&T Mobility Senior Vice President, Jeff Bradley.
In related news, T-Mobile and Sprint are two of the five major mobile network carriers in the US to have recently announced release dates for the highly anticipated smartphone of the year - Galaxy S3. Samsung's official announcement regarding the release of its high-profile smartphone on all five major US carriers actually hinted at a release date falling between early June and end of July for all specified carriers.
T-Mobile later confirmed the Galaxy S3 would be released on 21 June on their network. The carrier also put up a signup page for users to subscribe to latest information on official launch plans for the flagship product. Although there is still no word about the official pricing or exact specifications for the T-Mobile variant of the smartphone, it is likely some key features will be retained across all the US carriers.
Here is the complete list of common features:
1.5Ghz dual-core CPU (Qualcomm Snapdragon S4) (vs 1.4Ghz quad-core on the international variant)
4.8 inch SAMOLED display running at a 1280 x 720 pixel resolution
2GB of RAM (vs 1GB of RAM)
Android 4.0 Ice Cream Sandwich
Eight megapixel primary camera and two megapixel secondary camera
2100 mAh battery
Meanwhile, Sprint has officially released an invitation, declaring the release date for Galaxy S3 as Tuesday, 12 June. Sprint will also feature 16GB and 32GB models with same prices as Verizon at $199.99 and $249.99 respectively.
Here is the full text of the invite sent by Sprint, courtesy SamMobile:
:Be the first on your block to get your hands on it
Join us at an exclusive Samsung event. Come experience the smartphone redefined. There will be hands-on demonstrations, world-class technologists, games, prizes, and refreshments during this two-hour cocktail reception.
Spaces are limited and filling up fast, so reserve now by clicking on the register tab above.
When: Tuesday, June 12, 2012
Where: Cyclorama at the Center for the Arts
539 Tremont Street
Boston, MA 02116
Time: 6 pm - 8 pm
Complimentary parking in the lot. Attendees must be over 21 years old and bring valid ID.
Questions? Contact us at sprintnextbigthing@jackmorton.com"
The launch event scheduled for 12 June is expected to last for over two hours and will include a hands-on experience of Galaxy S3, games, prizes and refreshments. However, it seems likely the device will be released on all five major US carriers before 20 June.