As expected, Google has started seeding the latest Android 4.4 KitKat update for HTC One and Samsung Galaxy S4 Google Play Edition devices.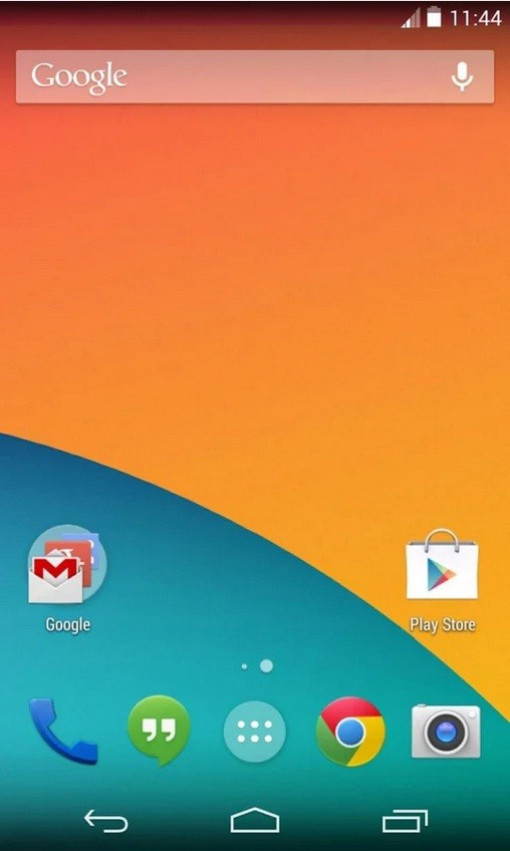 Recently, HTC posted the kernel source and framework files for the HTC One Google Play Edition on HTCdev. Following this, Samsung also dropped the kernel source code for the Galaxy S4 Google Edition at its Open Source Release Center, indicating that the Android KitKat OTA update almost ready to go live.
Now Google via its official Android G+ account confirmed that starting from today Samsung Galaxy S4 and HTC One Google Play Edition devices are getting an update to Android 4.4. Owners of Google Play Edition devices may check for the OTA update by navigating to Settings>> About Phone>> System>> Updates>> Check now.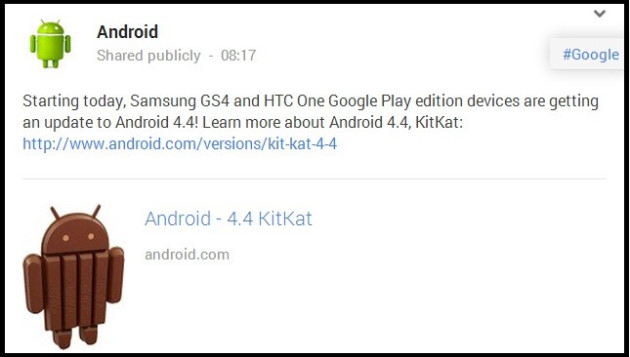 Users at XDA forum have confirmed the Android 4.4 for HTC One Google Edition. Senior member, brainimpact posted a screenshot of an Android 4.4 System Update for the HTC One. As the screenshot suggests, the OTA update weighing in at 305MB will upgrade the HTC One Google Play Edition to Android 4.4, KitKat which brings a number of new features and improves the performance as well.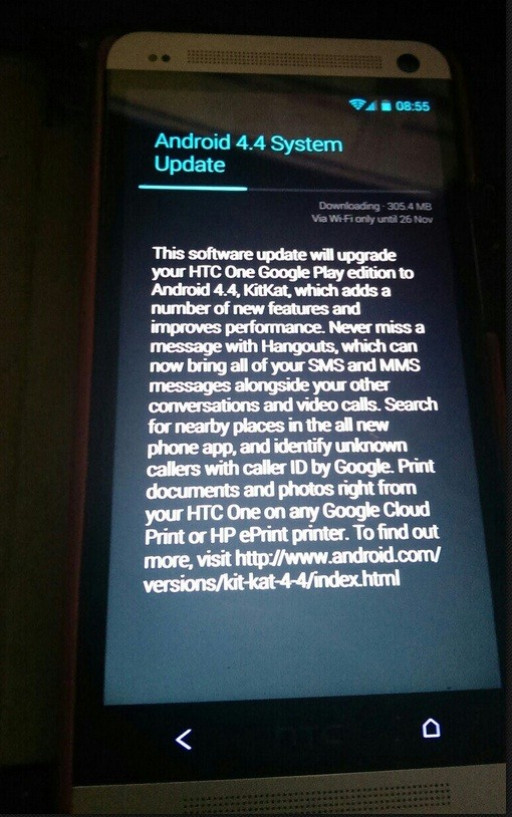 Besides, the new Android software integrates all the KitKat goodies, which are found in Nexus 5 except the Google Experience Launcher. However, those who wish to experience the Launcher can easily get it from the system dump of Nexus 5. The Android 4.4 OTA can be sideloaded or directly installed to the HTC One Play Edition with stock recovery. Users have to just place the firmware package on the local storage of the device and then apply the update. Below are the download links to Android 4.4 KitKat OTA files for the Google Play Edition devices shared by XDA members, saturn_de and oldblue910.
Download Links:
Android 4.4 KitKat OTA link for HTC One Google Play Edition
Android 4.4 KitKat OTA link for Samsung Galaxy S4 Google Play Edition
Must read- Android 4.4.1 (KOT49E) KitKat: What is New in the Update