Gambia's appeals court has ruled that the leader of the United Democratic Party (UDP) opposition party and another 18 party members should be released on bail. Ousainou Darboe and the other defendants were sentenced to three years in jail after being found guilty of participating in "unauthorised protests" in the capital Banjul in April.
Protesters had taken to the streets to call for electoral reforms and the resignation of the then Gambian president, Yahya Jammeh, who has been in power since 1994.
The defendants were charged with conspiracy to commit a felony, among other things.
They had previously been charged with assembling unlawfully, as well as rioting, inciting violence and interfering with vehicles. They all pleaded not guilty and were initially denied bail.
The rallies occurred months before the presidential election on 1 December, which saw UDP member Adama Barrow emerging as the winner.
Back in July at least 50 people were arrested among fears that Solo Sandeng, the UDP secretary, died alongside two others while being held in detention.
Rights groups, which slammed the arrests of Darboe and other protesters claiming they undermined freedom of speech in the country, have welcomed the court's decision.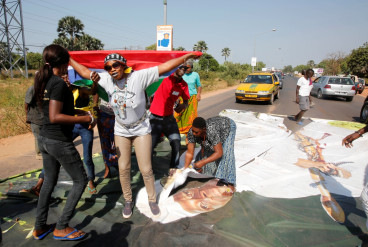 "The Gambian Court of Appeal's decision to grant bail to opposition leader Ousainou Darboe and 18 other wrongfully detained protesters is an important first step in demonstrating improved respect for the rule of law and ending the trampling of rights of the political opposition," Jim Wormington, West Africa researcher at Human Rights Watch (HRW) said.
Amnesty International welcomed the ruling, but pointed out other prisoners of conscience are currently being detained in the country.
"We must also not forget others prisoners of conscience who still languish in jail simply for having expressed their opinion or participated in peaceful protests," Sabrina Mahtani Amnesty's West Africa Anglophone Researcher said.
"These include three Imams arrested by the security forces over a year ago and not seen since. Their only 'crime' - presenting a petition to the government."