Gambia's President Yahya Jammeh is 'to concede defeat' after being beaten in the presidential election held on Thursday (1 December 2016). The head of the electoral commission said it was unprecedented for a Gambian leader to accept defeat before the announcement of the final results.
Jammeh, who has been in power since 1994, lost to Adama Barrow of the United Democratic Party (UDP) opposition party. Barrow, a former businessman, was appointed as the head of a coalition of opposition parties earlier this year.
It is believed the 51-year-old coalition leader used to work as a security guard at an Argos department store in north London. He moved back to Gambia in 2006, to set up his own property company, the Majum Real Estate.
There has been no official word from Jammeh, who was seeking a fifth term. The 51-year-old leader was defeated in the capital Banjul, his stronghold.
Watershed moment for Africa
"This is a huge moment for the country, as the opposition was able to come together," Jeffrey Smith, human-rights consultant and founding director of NGO Vanguard Africa, told IBTimes UK.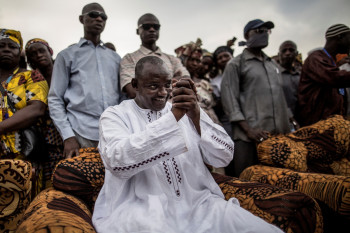 "It provides a blueprint for other pro-democracy movements across Africa. We have been preaching that unity is key, and Gambia took that in action. This is a very important lesson – a watershed moment not only for Gambia, but for the wider region."
Gambian activist and journalist Sainey M K Marenah described the vote as "unprecedented in our political history" and continued: "Gambia have spoken and have spoken well!The vote is unprecedented in our political history, a defining moment when Gambia collectively said no to dictatorship through democratic means," he told IBTimes UK.
Marenah has been living in Senegal since he was accused by the Gambian government of publicising what's been called "false news" in 2014. "I will reunite with my family after two years in exile," he continued.