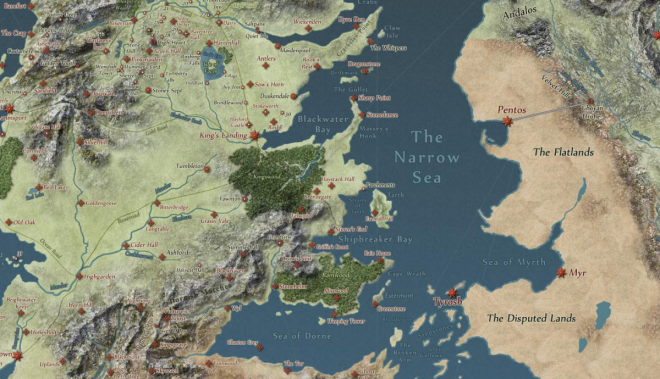 A group of dedicated Game of Thrones super-fans have produced a wonderfully detailed interactive map of the TV series\' fantasy location Westeros.
Quarter Maester gives fans a forensic look at the world of George R.R. Martin\'s novels and allows them to track the movements of the show\'s plentiful roster of characters through both the books and TV series.
If you want to avoid spoilers, simply switch to \"Episodes\" on the right hand toolbar then check as many of the characters as you wish to see their path (often their path to the grave) painted out. Each character also links to their page on the Wiki of Ice and Fire wikia site.
With the fourth season of HBO\'s hit show currently airing, there\'s going to be a lot of updating in the coming weeks as the show heads towards a finale which has been called \"the episode to end all episodes\".
The map doesn\'t consider itself comprehensive, but does seem a fair representation of the world presented. \"Because the official maps do not cover everything, a lot of this map is by necessity speculative in nature\" the makers admit.
\"The scale map is based upon the length of the Wall. It is stated in the books that the Wall is 300 miles in length.\"
The map\'s creator \"theMountainGoat\" also mentions that the official maps offered up in the books are not necessarily accurate, as Martin prefers them to \"follow a medieval cartography style\" meaning they are approximations.
You can check out the map here.