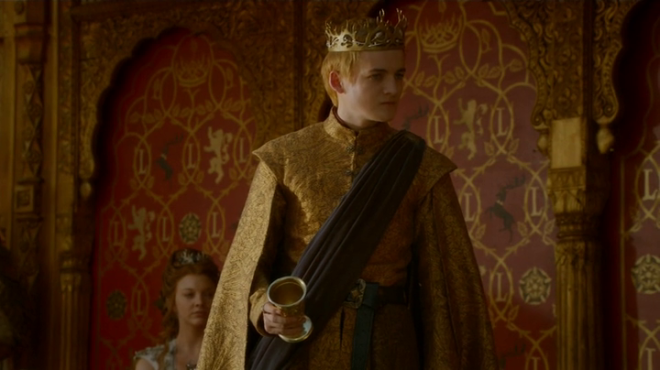 WARNING: Major spoilers for season four, episode two of Game of Thrones
It's just the second week of HBO's blockbuster series Game of Thrones and fans got an explosive surprise from the show creators centring on the death of Joffrey Baratheon.
King Joffrey was the most hated character of the show for his sadistic attitude but most fans would have wanted his death during the season finale at least to ensure a cliff-hanger situation with their favorite protagonists.
The Season 3 Red Wedding massacre has barely been forgotten and the Purple Wedding of The Lion and the Rose gave another big shock with just one death.
After the death, a blame game begins and a terrified Cersei was seen plunging into grief. She accuses Tyrion Lannister of murdering her son.
The sudden twist will lead to the unfolding of the murder mystery along with the parallel stories of Oberyn Martell, Daeneyrs Targaryen and Sansa Stark.
Meanwhile in an interview with entertainment website Deadline, show Director Alex Graves has assured fans that the current season will be the most exciting one yet, with big twists.
He also said that the second episode is just a 'small part' of the bigger surprises that are waiting to happen in each episode.
"I think the thing is that like any death in Game of Thrones and Ned Stark's being a great example, every death is not an end to a story; it is the beginning of a story. Joffrey's death turns a new page in the book but oh, what a page it turns to. And the season basically starts there and loses total control."
Danaerys has reached the slave city Meereen with her army and perhaps the third episode refers to her as the Breaker of Chains for her explosive encounter.
At King's Landing, Cersei arrests Tyrion for poisoning Joffrey to death but Tyrion knows that he has been framed.
Ser Davos keeps advising Stannis agaist the use of the Red Woman's magic and Margaery is grieving for Joffrey's death.
The Game Of Thrones Season 4, Episode 3 'Breaker of Chains' is directed by Alex Graves and written by David Benioff and D. B. Weiss. The episode will air on 20 April on HBO.
For more updates and spoilers on The Games of Thrones Season 4 episodes, keep watching this space.