HBO's blockbuster fantasy series Game of Thrones Season 4 is just an episode away from its finale and fans have already started missing the show.
Meanwhile, a recent report that said the smash-hit series will air its last episode next Sunday, along with the season 4 finale, has shocked fans.
With millions of fans connected emotionally to the series, the fake news has been spreading like wildfire causing major outbursts on social media websites, including Facebook and Twitter.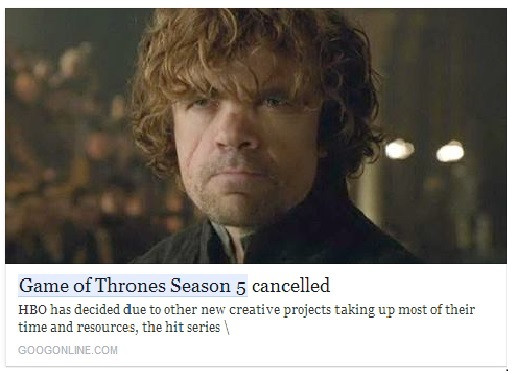 The bogus report reads: "Popular Drama Game of thrones will officially end at Season 4. Read more here."
The news, however, is a fake and clicking the link might affect your computer, grahamcluley.com reported. According to the website, the link will direct users to update their Java plugin.
Game of Thrones Season 4 was the most popular season of the series till date and remained controversial throughout its airing for killing off the major characters in the show.
The series started with the purple wedding, which witnessed the death of sadist king Joffrey, who was poisoned by Little Finger aka Petyr Baelish through Sansa Stark.
However, the biggest shock of the series was the skull crushing murder of prince Oberyn by the Mountain.
There are rumours that the finale might feature another shocking death before ending the series.
Game of Thrones season 5 will premiere on HBO during Spring next year.
Below are the tweets by fans who were shocked after the fake news.
omg 5th season of game of thrones will be cancelled :( http://t.co/6qm1Q8FArv

— Syed Ashraf (@ashrafedruce) June 9, 2014
Game of Thrones Season 5 cancelled http://t.co/1reClLnfk8 via @twitterapi Noooooooooooo — Ramonee✌ (@iamrambo) June 9, 2014
WTF #GoT Season 5 is cancelled!!!! :O http://t.co/m7UaN32os9

— Don QuickSort (@thebhokalibong) June 9, 2014
Can't believe Game of Thrones season 5 is cancelled :/ http://t.co/e3seMKPnGs — Eru Ilúvatar (@Man_of_Rohan_) June 8, 2014
oh crap people even you know game of thrones goes byby no more game of thrownes http://t.co/Fkl7Dyki7B

— jeffery bennett (@jefftron20) June 9, 2014
No season 5 devastated http://t.co/Kv99mVb07V — game of thrones (@AMemeOfThrones) June 8, 2014
Game Of Thrones Season 5 Cancelled, WHow will end with Season 4 http://t.co/VJiJfrRIuQ

— Brian (@TheBrianDane) June 8, 2014
Game of Thrones Season 5 Cancelled Prank Spreading Like Wildfire This Is The Link Responsible for all the... http://t.co/zCB3Oe09nk — Make It Happen (@MakeItHappen4tv) June 8, 2014