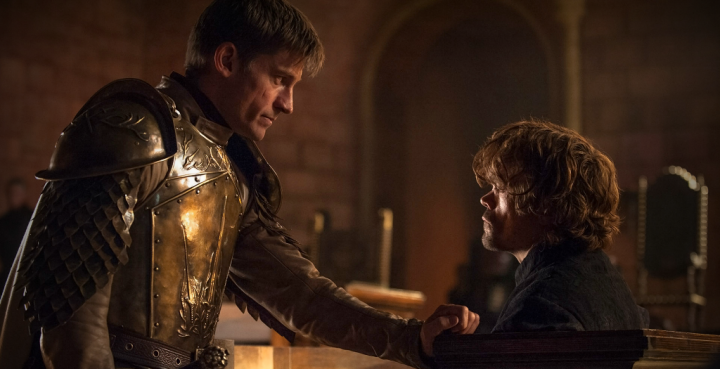 Game of Thrones Season 4 finale was perhaps one of the happiest episodes amongst the ten episodes of the HBO fantasy series.
Tyrion Lannister, the fan favourite character of the series finally managed to escape from Cersei's wrath with the help of his brother Jaime Lannister.
But before leaving Westros, he made a point to kill his father Tywin and anxious to know what will happen to the younger Lannister in the aftermath of Tywin's murder.
Jaime helped the dwarf Lannister as he believed that his brother never killed his incest blood and the young king Joffrey.
Though this never suggested that he loved his father any less and there are speculations that Jaime will be 'devastated' after learning that his little brother killed his very own father.
E Online reported that the eldest Lannister son will be shocked to see his father lying dead in his room as he never expected this to happen and it will be difficult for him to overcome the trauma.
"It wasn't something that his sister would want him to do and I think it's safe to say that he didn't expect in his wildest dreams that the consequences would be that his father would get killed," Nikolaj Coster-Waldau (Jaime) told E Online.
"I think even though his father was a very complicated man, he was still his father. Jaime loved him. So it's going to be a very complicated situation for Jaime when the show comes back," he added.
Coster-Waldau also hinted that Jaime will be in a complicated situation when the show will return with season 5 next year.
Does this mean that a devastated Jaime will avenge his father's death and will be on a blood hunt after Tyrion?
Meanwhile, TMZ reported that Cersei Lannister's naked scene will happen after the Croatian church shoot controversy.
According to the website, Cersei, who is stripped and insulted by the High Septon and will walk naked in the streets of Croatia until she reaches the Church.
What do you think? Will you be interested in watching a naked Cersei walking on the road?
Share your views on the comment box section bellow.
The filming for Game of Thrones Season 5 has already begun and the series will be back next year on HBO.