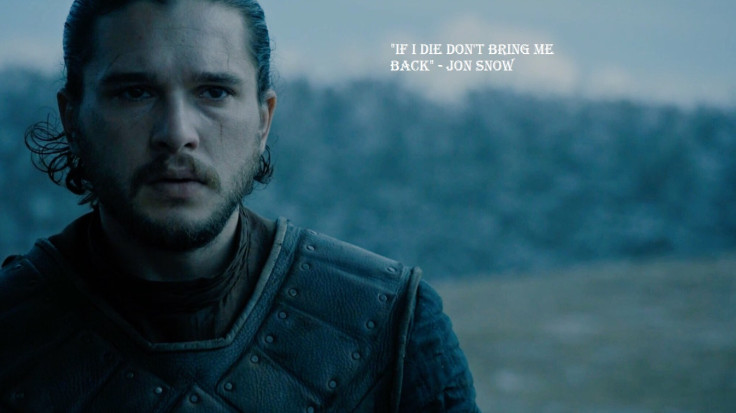 Winter is coming and it is just one episode away from Game Of Thrones season 6. Before getting the chills, fans will see the Battle Of The Bastards and according to the preview released by HBO, the Jon Snow and Ramsay Bolton war will be epic.
What is more striking, is the brief conversation shown between Melisandre and Jon Snow where the former Lord Commander asks the Red Priestess not to bring him back if he dies during the war. "If I fall, don't bring me back," he says before marching towards the battle to reclaim Winterfell, the home of the Starks.
The synopsis according to Cosmic Book News reads: Ramsay (Iwan Rheon) surprises his audience. Jon (Kit Harington) retaliates. Dany (Emilia Clarke) is true to her word.
Everyone knows, Ramsay warned Snow to return his estranged wife Sansa and if he failed to do so, the Bolton threatened to kill Rickon, the youngest child of the late Ned and Catelyn Stark.
Snow knows that his army is not strong enough to take on Bolton's men. The promo also shows a grim future for him at the war front. Brienne of Tarth has already failed to bring in help for the Starks and Sansa previously refused any help from Littlefinger aka Lord Petyr Baelish.
However, a Reddit user seems to have decoded the letter written by Sansa behind Snow's back. And if it is to be believed, she wrote the letter to Lord Baelish seeking the help of the Knights of the Vale.
Game Of Thrones season 6 pre-finale will air on 19 June on HBO.