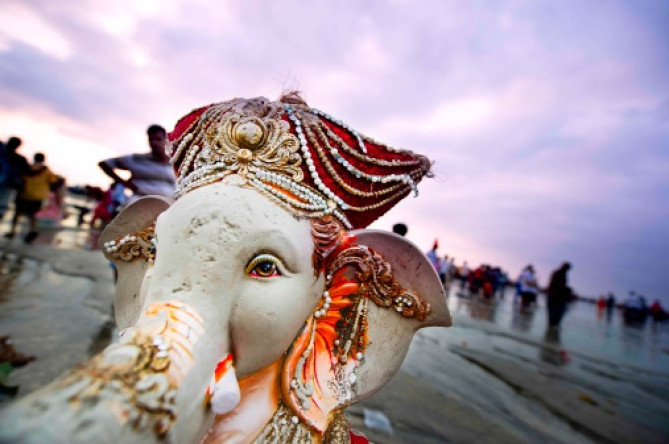 The Ganesh festival, also known as Vinayaka Chaturthi, which marks the birth of the elephant-headed god of wisdom, wealth and prosperity, is popular among Hindus, especially in India. According to the Hindu calendar, the special day is celebrated on Shukla Chaturthi in the month of Bhadrapada which generally falls around mid-August and mid-September. The festival is usually celebrated for 10 days beginning with the installation of colourful clay images of Ganesh in temporary shrines erected at public places.
Hindu mythology has it that Parvati had once asked her son Ganesh to guard the entrance to her abode while she attended to her bathing and meditation rituals. Her loyal son took up his position and refused to allow anyone in. Even his father, Lord Shiva, who came home after spending years in meditation, was stopped at the door by him. Shiva, known for his terrible temper, did not take this audacious act kindly and chopped off his son's head.
Her husband's action so angered Parvati that she vowed to destroy the world if her son was not brought back alive. Shiva soon replaced Ganesh's severed head with that of an elephant's. The elephant-headed boy was then declared the god of knowledge and new beginnings by all the gods.
Hindus celebrate the birth anniversary of Ganesh with full fervour and enthusiasm. According to popular belief, Lord Ganesh blesses all his devotees who worship him on this day by removing obstacles from their lives and granting them new beginnings and wisdom. The festival is mainly observed in the states of Maharashtra, Gujarat and most parts of South India, and begins from 17 September.
The clay models of the popular god become the highlight during the 10-day-celebration, with artists erecting these statues in various sizes and poses, reflecting different mythologies, folktales and even various events of the day. This year, a popular image has been that of Ganesh taking a family selfie with a selfie stick.
The festival ends on the eleventh day when the idol of the god is immersed in a water body, in an act called visarjan. To commemorate the day, devotees prepare various sweets including Ganesh's favourite modak, which is a rice dumpling stuffed with sweets.