Gang of 'relic looters' caught at Judean Desert's Cave of Skulls
Gang of looters caught stealing ancient relics near the site of the Dead Sea Scrolls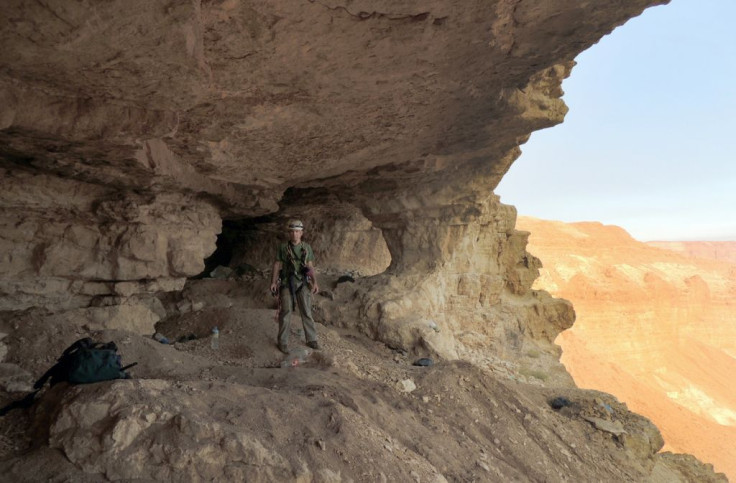 A gang of looters has been apprehended by Israeli authorities stealing ancient relics near the site where the Dead Sea Scrolls were discovered.
Israeli officials say they have charged the group on suspicion of theft. They were apprehended leaving an archaeological site called the Cave of Skulls, which is halfway down a steep cliff side.
This is the first time in 30 years that suspects have been caught red-handed in the Judean Desert. The looters were spotted by pure luck when search and rescue workers on a training exercise in the desert spotted suspicious activity near a cave.
The suspects were observed "carrying out an illicit excavation", according to the Israel Antiquities Authority.
They were arrested on their return to the top of the cliff, carrying looted artifacts, as well as "lighting equipment and ropes" and "sophisticated metal detectors".
The suspects had caused "tremendous damage" said a spokesman for the Israel Antiquities Authority by digging through earth from the Roman period, 2,000 years ago, and also the Chalcolithic period, dating back 5,000 years.
They also added that the looters "demonstrated considerable expertise in reaching the cave by climbing and rappelling down the cliff".
"The apprehension of the robbers was part of a complex operation to locate the Dead Sea Scroll robbers, which lasted more than a year," said the IAA.
Items recovered include a comb more than 200 years old, which was used for removing hair lice.
Plunderers have visited these archaeological sites which was a secret shelter for Jewish rebels in the time of the Roman Empire.
Many precious items were left behind including shoes, tools and rare texts written on papyri, on which various texts were written, among them books of the Bible, legal contracts and historical stories.
Amir Ganor, director of the IAA's Unit for the Prevention of Antiquities Robbery told the Times of Israel: "These finds are sold for large sums of money in the antiquities markets in Israel and around the world."
"Over the years many of the plundered finds reached the antiquities markets in Israel and abroad, but it has been decades since perpetrators were caught red-handed. This is mainly due to the difficulty in detecting and catching them on the wild desert cliffs."
© Copyright IBTimes 2023. All rights reserved.