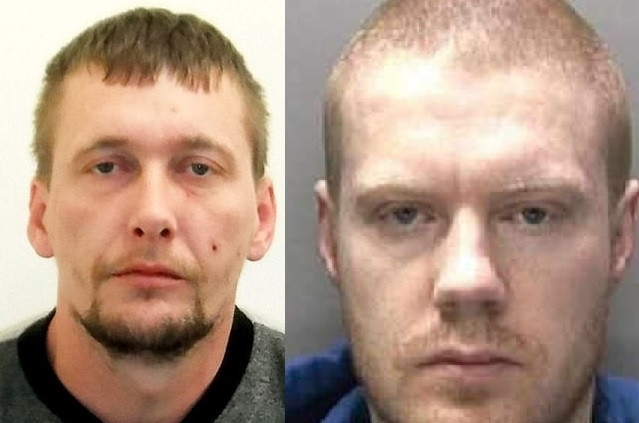 An organised crime gang that smuggled drugs, mobile phones and even a Freeview box into jails across England and Scotland using drones have been jailed for 28 years.
The gang was headed by jailed former armed robber Craig Hickinbottom, 35, and smuggled an estimated £370,000-worth of contraband ($496,000) directly to inmates.
However, there were other drone flights that were not intercepted so the true value of the drugs alone, based on an average delivery, is estimated to be up to £1.2m, said prosecutors.
Birmingham Crown Court was told that between July 2015 and May 2017, the gang trafficked items into HMP Hewell, Stoke Heath, Featherstone, Birmingham, Oakwood, Lindholme, Stocken, Liverpool and Risley.
The items included psychoactive substances, crack cocaine, cannabis, heroin, mobile phones, sim cards, a Freeview box, hacksaw blades and screwdrivers.
The gang wrapped the items together in packages, sometimes concealing them in drink bottles, then attached them to fishing lines and flew them over prison walls with remote-controlled drones.
Prisoners were seen using broom handles with hooks attached to retrieve the packages while other pre-ordered items would be thrown over prison walls.
The court heard that some of the deliveries were even flown directly to the prisoners' cells and a number of the packages were intercepted by officers triggering a police investigation.
The gang's operations were also caught by chance, by CCTV set up to film wildlife outside HMP Hewell in Worcestershire.
Once police seized the drones they were able to analyse their data which revealed locations close to prisons and this information was used to correlate mobile phones linked to the gang, a court was told.
Eight members of the eleven-strong gang were jailed at Birmingham Crown Court on Wednesday (13 December) for their part in the conspiracy.
Sentencing Judge Roderick Henderson said according to the Mail Online: "Prisons are a hard place to run, that not only contains dangerous people but people who are vulnerable in themselves.
"There is a real risk of violence and loss of control and to do that is desperately serious.
"There were regular deliveries of cannabis, mobile phone, tools and psychoactive substance. 19 of the 53 of the deliveries were intercepted, which included 3kg of psychoactive substance."
The court was told that packages were intercepted and retrieved 15 times and included more than 1kg of cannabis and 3kg of psychoactive substances consisting of synthetic cannabis such as 'Spice'.
Prosecutors said that prisoners deposited cash into bank accounts which matched the certain inames cell number from whom payment had been obtained.