Tottenham Hotspur manager Andre Villas-Boas admits Gareth Bale can work as a crucial bargaining chip in their attempts to sign new players.
Bale provided another remainder as to his worth with a double as Spurs downed Newcastle United on Saturday, to bring his goal tally in the Premier League to 13.
The Welshman has continually been linked with moves away from Tottenham, and while his impressive recent form is doing nothing to diminish such rumours, Villas-Boas is keen to focus on how Bale can spark improvement in the club's own squad in the market.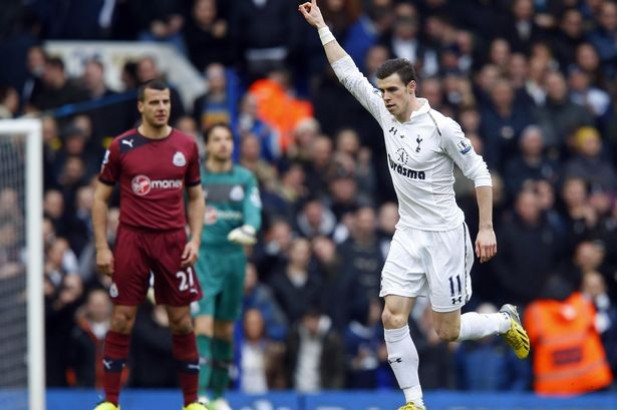 When asked if Bale can help tempt better players to White Hart Lane, Villas-Boas said: "It's a great question.
"People also move when they find other players are able to promote their own potential. Gareth has that effect.
"It was a great individual performance and it was outstanding to see a player enjoying his football. Gareth is, whatever position he plays," he added.
"Great teams are made of great individuals too and Gareth is decisive."
The 23 year old is the club's top scorer ahead of Jermain Defoe, and his fearsome pace, devastating delivery and finishing ability have made him a valuable asset in Tottenham's pursuit of Champions League qualification.
And Villas-Boas needs no telling as to the significance of winger.
"Barcelona losing Messi would be a disaster," he said. "Real Madrid losing Ronaldo would be a disaster, so this is exactly the same."
"There isn't a release clause in English football, it's very difficult to negotiate with Tottenham and we are not willing to let our best assets go. We can't turn this into a debate every time a player does well."
Despite Tottenham's willingness to retain their prized asset, Bale has made no secret of the fact he is attracted to the idea of playing abroad, where many feel his burgeoning talent can finally be realised.
"It would be nice to experience other leagues and other cultures," he said last December.
"I'm not afraid to go abroad. If the time comes and a team that's right comes in for me, then I'll look at it seriously. I'll see what happens."