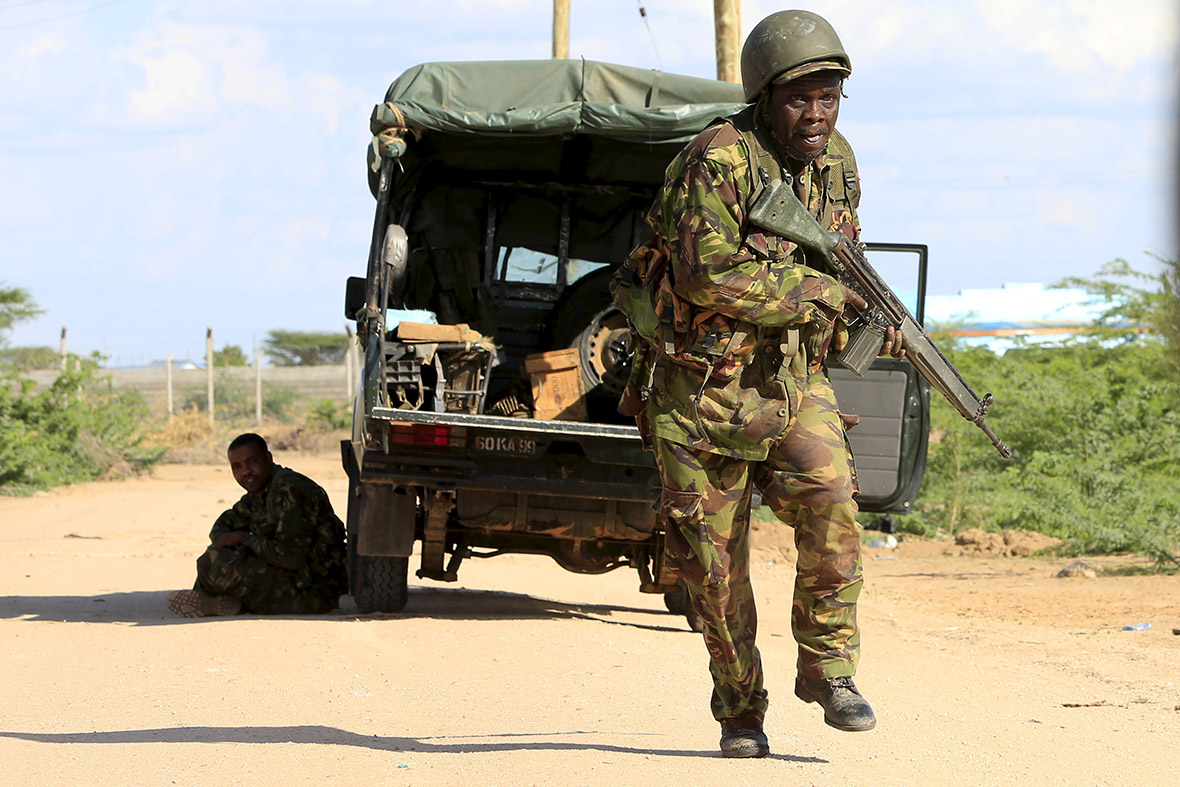 Kenyan officials say the death toll may be as high as 150 while 315 students still remain unaccounted for after an attack on a university in eastern Kenya.
The siege has now been confirmed as four Al-Shabaab militant attackers have been killed.
The Somali Islamist militant group with links to al-Qaeda, claimed responsibility for the attack, on Garissa University College, claiming the institution "is on Muslim land colonized by non-Muslims".
Seventy people have been confirmed killed and 79 wounded after an estimated 10 masked gunmen stormed the school at around 5am local time (0700 BST) - as students were preparing for dawn prayers - in the town situated 150km (90 miles) from the border with Somalia.
"We are mopping up the area," Nkaissery said according to AFP. "Unfortunately, we lost... a number of lives, we have not confirmed fully, but it is in the region of 70 students, and 79 have been injured, nine of them critically."
Reuters also reported Kenyan police chief Joseph Boinet said there will also be a dusk to dawn (6.30pm to 6.30am) curfew implemented for four regions located near the Somalia border as a security measure.
In a state address earlier today, Kenya's President Kenyatta Uhuru confirmed hostages have been taken as part of the attack.
"I am saddened to inform the nation that early today, terrorists attacked Garissa University College, killed and wounded several people and have taken others hostage."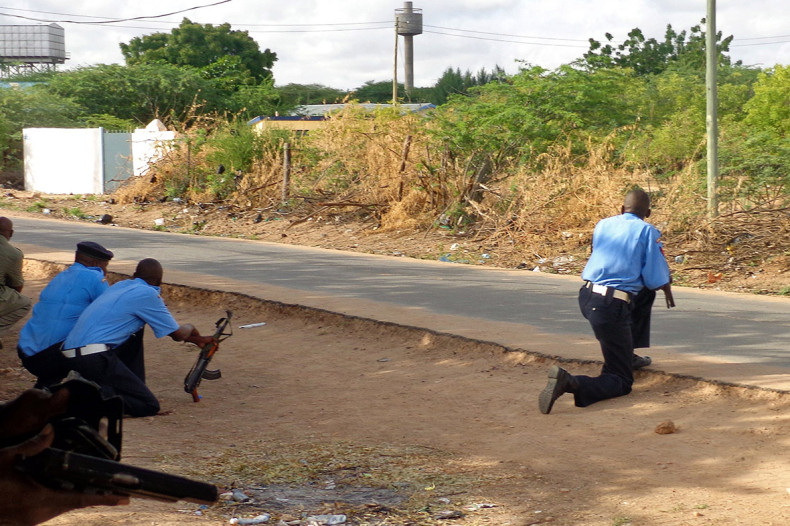 Non-Muslims targeted
The al-Shabaab gunmen appear to have stopped short of indiscriminately shooting students.
"We sorted people out and released the Muslims," Sheikh Abdiasis Abu Musab, al Shabaab's military operations spokesman, told Reuters.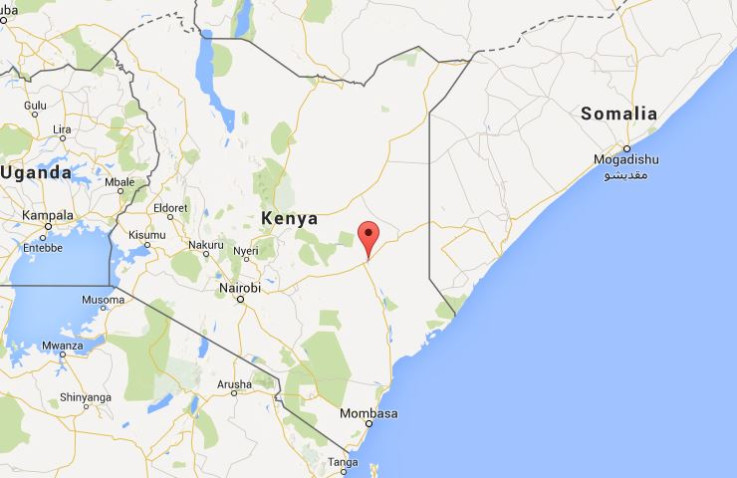 Google Maps
The group has said Kenyan security forces only knew about the attack after it let the Muslim students leave the university, confirming it is holding students hostage.
"There are many dead bodies of Christians inside the building. We are also holding many Christians alive. Fighting still goes on inside the college."
The militant group also warned the BBC: "We've killed so many people, you'll be shocked when you go inside".
When the gunmen arrived at the dormitory of Collins Wetangula, the vice chairman of the student union, he said he could hear them opening doors and asking if the people who had hidden inside were Muslims or Christians.
"If you were a Christian you were shot on the spot," he told The Associated Press. "With each blast of the gun I thought I was going to die."
Rising death toll
In a statement sent to the BBC, a spokesman for al-Shabaab claimed responsibility for the attack, claiming that "dozens" had been killed.
Terrified students ran out of buildings, some young men shirtless, some barefoot, others in their pyjamas, as arriving police officers took cover.
"The attackers shot indiscriminately while inside the university compound," said Joseph Boinet, Kenya's inspector general, in a statement.
A Kenyan journalist, Dennis Okari, who is at the scene, said on Twitter: "Just been told to take cover outside the University. I can hear heavy gunfire (and) explosions. Hundreds of students run out, some crawling."
The Red Cross confirmed "50 students have been safely freed", but 535 students of the 815 believed to be at the university are yet to be accounted for, the NDOC confirmed in a tweet, citing Kenya's internal security minister. All staff of the Garissa University College have been accounted for.
Four critically injured individuals have been airlifted from the school to Nairobi for treatment following the attack, the NDOC added on Twitter, with 65 receiving treatment at Garissa hospital.
An aircraft with four doctors, two surgeons and two anesthesiologists left for Garissa to airlift critical casualties to Nairobi, according to local reports.
Local residents and survivors have gathered to donate blood.
A journalist, Noor Ali, who has been reporting from the Garissa hospital has, however, questioned the official death toll.
He tweeted: "After what i saw in Garissa hospital, i really doubt the official figure. Sources within hospital, put number much higher."
Attackers cornered
Police and soldiers surrounded the Garissa campus and are attempting to hunt out the gunmen, who have been "cornered" inside the upper dorm section after a lengthy gunbattle with security services, according to the NDOC and Okari.
Fighting is continuing, according to local government spokesman Abdulkadir Sugow, who said the attackers are gathered but hiding on a roof to have an "arial view" of security forces below.
According to witnesses, police may be in their final push as heavy gunfire has been heard, as well as "some smoke coming from the hostage block".
The Military Tactical Team have cleared and evacuated the other dorm blocks.
Nkaissery said one suspected terrorist has been arrested as he tried to flee the scene.
The government has switched off all mobile networks in Garissa for security purposes, according to local reports. It seems, however, that these measures have proven ineffective as al-Shabaab told Jamal Osman, a journalist for ITV/Channel 4, they are in contact with their fighters inside the university.
Meanwhile, witnesses report that the army has dispatched tanks to Garissa.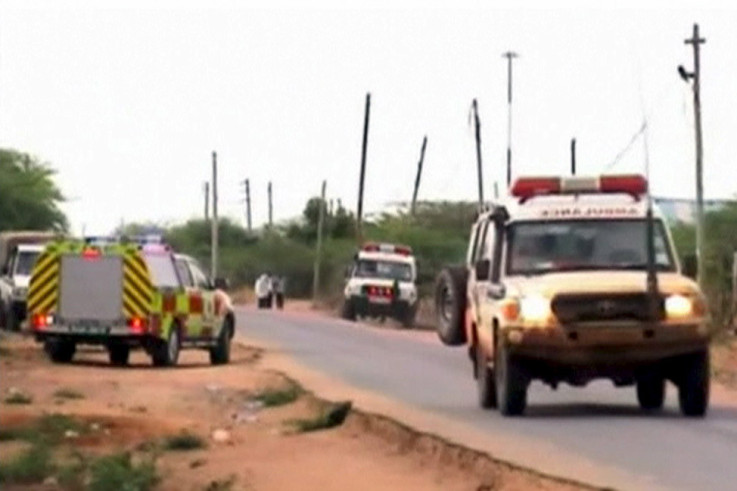 Emergency vehicles are seen parked along a road in Garissa, in this still from a video
Reuters
The Kenyan government has raised its bounty to $53,000 (£35,762) for a Kenyan and a former teacher in Garissa, who is believed to have planned and coordinated the attack, according to the BBC's Africa service.
Mohammed Kuno, aka Gamadhere, is described as the Al-Shabaab commander who oversaw the killings of 58 Kenyans in Mandera.
Kuno has been on the run since December last year.
Security warnings at universities
The University of Nairobi, Kenyatta University and the United States International University issued security memos within the last seven days, informing students and staff of new security measures while cautioning people on the campuses to be extra vigilant.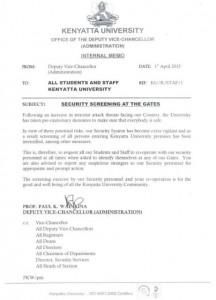 Memo sent by Kenyatta University warning about potential attack
Twitter
Professor Paul Wainana, DVC Administration at Kenyatta University sent out a memo yesterday (1<sup>st April 2015) requesting students to co-operate with the security personnel.
"In view of the potential risks, our security system has become extra vigilant and as a result screening of all persons entering Kenyatta University premises has been intensified, among other measures," the memo said.
Commando-style raids have become a signature move for the al-Qaeda-linked militant group, which was responsible for a deadly attack in 2013 on the upscale Westgate shopping mall in Nairobi.
The group has vowed to punish Kenya for sending troops into Somalia alongside African Union peacekeepers.
Estimates say 312 people have been killed in al-Shabab attacks in Kenya from 2012 to 2014, according to police statistics.
Thirty-eight people were killed and 149 wounded in Garissa in the same period.