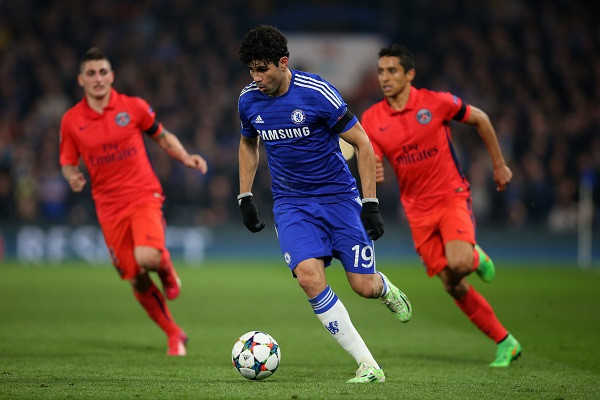 Chelsea centre-back Gary Cahill has heralded Diego Costa as the player to "fill the big shoes" left by Didier Drogba's departure from Stamford Bridge after the Spanish international became the club's top scorer in his debut season at Chelsea.
Costa moved to West London from Atletico Madrid in summer 2014 for around £32m after scoring 27 La Liga goals in 35 appearances to garner a reputation as one of the most clinical strikers playing in Europe.
And even though the Spaniard has struggled with hamstring problems throughout the season, he has still managed to score 20 goals in his 26 Premier League appearances.
Cahill has lamented the departure of legend-like Drogba but believes Costa has proved this season Chelsea will deal with his absence.
"They're big shoes to fill, but Diego couldn't have started his Chelsea career any better. He's had a couple of injuries but nevertheless his goal-scoring ratio has been phenomenal. He'll be a big player here and, with Diego in the team, you're a far better side," Cahill said.
"I know it's the second time Didier's been here but obviously it's sad that he's played his last game for the club. He said a few words before we left the hotel, it was only brief but it was good. I'm sure one day we'll see him back at the club. I don't think he's gone forever, but probably from a playing point of view that was his last game."
After a last season without silverware, the Blues have secured both the Premier League and the League Cup in Jose Mourinho's second campaign at West London.
Some players have claimed the next target should be to fight for the Champions League but Cahill reveals Mourinho has already warned them about the difficulties they will have next season to just replicate their domestic triumphs.
"He (Mourinho) has told us it will be a lot harder to win it next season, he's drilling that into us and as players that's a good thing. It's important for us to take his advice as someone who's been there and done it and no doubt it will be tough because teams always want to beat you when you're champions, like Man City have found this season," he said.
"You don't need to be told it's hard. I know how hard it's been this season, even though we've been at the top all the way through. I'm sure other teams will strengthen in the summer and that will make it even harder for us."