Gayle King calls 'downplaying' of Prince Harry, Meghan Markle car chase 'troubling'
The Duke and Duchess of Sussex and Doria Ragland were chased by paparazzi after they attended the Women of Vision Awards in NYC on May 16.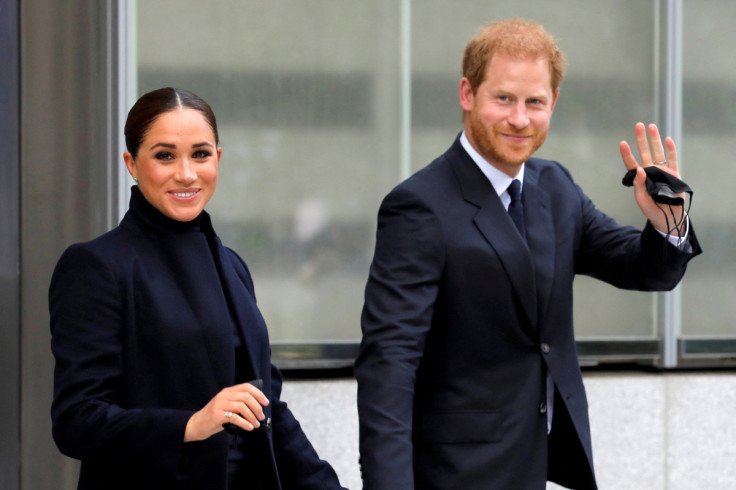 Gayle King feels sorry for Prince Harry and Meghan Markle after they experienced what they called a "near-catastrophic" car chase with the paparazzi in New York on May 16.
The talk show host called it "a very unfortunate incident" during an interview with Page Six at the 148th Preakness Stakes in Baltimore, Maryland. Referring to the slew of media personalities who doubted the Duke and Duchess of Sussex's experience, the CBS journalist admitted that she finds it "troubling" that "anybody would try to downplay what that would mean to them.
"That's very troubling to me," King shared adding that she finds it unsettling that some people are trying to "minimise how (they) felt in that moment."
She said, "I'm just really sorry it happened and very sorry they had to go through it. Everybody can have all of their opinions but I always go back to, 'How did they feel in that moment?'"
Among those who argued that it is impossible to have a car chase in Manhattan were Whoopi Goldberg and Megyn Kelly, who said during an episode of her "The Megyn Kelly Show" that "there is no way of having a two-hour car chase in New York City, in Manhattan. There just isn't."
Prince Harry, Meghan Markle, and her mum Doria Ragland were involved in what the couple's representative called "a near catastrophic car chase at the hands of a ring of highly aggressive paparazzi" after they attended Ms. Foundation's Women of Vision Awards at the Ziegfeld Ballroom, where the former "Suits" actress was honoured.
"This relentless pursuit, lasting over two hours, resulted in multiple near collisions involving other drivers on the road, pedestrians, and two [police] officers. While being a public figure comes with a level of interest from the public, it should never come at the cost of anyone's safety," the spokesperson said.
It is said that 12 photographers on e-bikes pursued their black SUV and that one officer from the New York Police Department nearly got run over. In a bid to lose their trail, the trio eventually hopped into a yellow cab driven by Sukhcharn Singh. According to reports, it took two hours because the couple did not want the paparazzi to follow them to where they were staying at a friend's house.
King has been outspoken about her support for the Duke and Duchess of Sussex and even defended them from fellow talk show host Andy Cohen when he labelled their "Harry & Meghan" Netflix docuseries a reality show. She corrected him, "It's not a reality show. It's not."
Aside from King, royal author Omid Scobie also found it "disappointing" that none of the royal family members reached out to the Sussexes after their terrifying ordeal with the paparazzi. He looked back at the tragic death of Princess Diana, who died in a car crash while being chased by paparazzi in Paris. He told BBC Newsnight, "It's impossible not to think of Princess Diana when we hear about car accidents and this kind of aggressive paparazzi chase."
The co-author of "Finding Freedom" admitted that he was "really surprised to hear that not one member of the royal family, including King Charles III and Prince William—who obviously [were] heavily affected by Princess Diana's death—has reached out to Prince Harry, hours after the news had broken."
Prince Harry, Meghan Markle, and Ragland were reportedly left shaken and terrified by the experience. But thankfully, no one got hurt during the ordeal. An NYPD representative confirmed "there were numerous photographers that made their transport challenging" but the trio "arrived at their destination and there were no reported collisions, summonses, injuries, or arrests in regard."
© Copyright IBTimes 2023. All rights reserved.